Random Acts of BBQ: Healthcare Heroes
In honor of National Nurses Week, we set out to surprise our local Healthcare Heroes for the incredible services they provide to our communities. It's always a pleasure to let them know how much we appreciate everything they do to keep our loved ones safe and healthy.
Marion Country EMS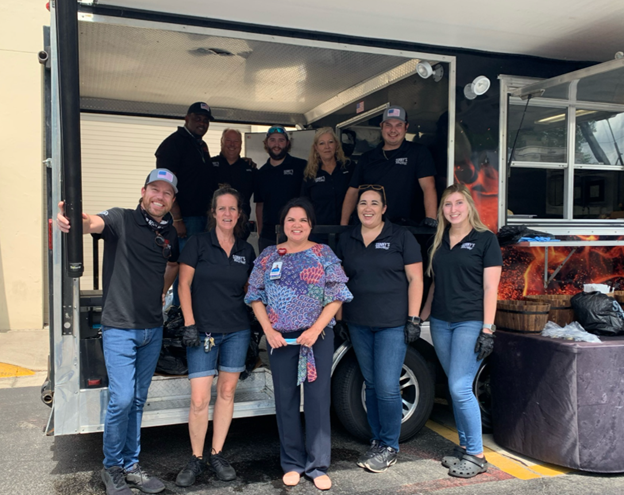 We had the honor to partner with AdventHealth to serve up some smokin' good 'Q to all of the EMS in Marion County. It was a real joy to see the smiles on their faces while they enjoyed some of our favorite BBQ.
Lindsey and Crystal Reyes | Traveling Nurses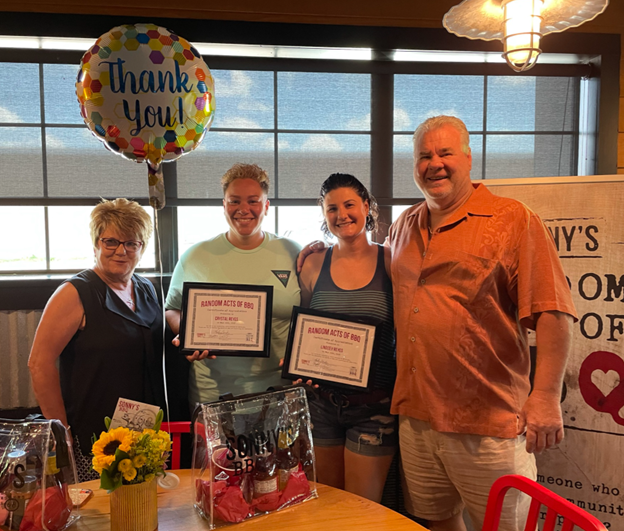 Lindsey Reyes and her wife Crystal are traveling nurses who have done everything they can to bring the world back to good health. Lindsey's dad nominated them both for the sacrifices they have made to help out the frontlines whenever they were needed. They spent months in New York, caring for COVID-19 patients. Lindsey's dad shared there were hospital beds set up in the streets due to the high volume of care needed. They also helped in Texas, to share their care as the pandemic grew. Lindsey's dad was worried, but proud of the hard work and selflessness they gave during such a difficult time. The least we could do was throw them BBQ. We loved celebrating and showing how thankful we are to have such dedicated nurses that are willing to do whatever they can for our health.
Celebrate Primary Care & Palms Medical Group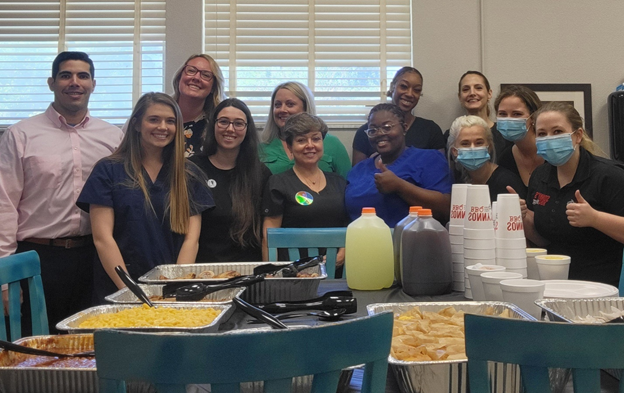 Sonny's BBQ of Alachua proudly recognized Celebrate Primary Care. This organization is an office overseen by two Medical Doctors, and ran by Licensed practical nurses. They are able to provide the care that primary care doctors preform for less money. This office does not accept insurance. It's affordable and makes it easier to provide care to their communities.
Palms Medical Group has doctors and nurses, but they function similarly to Celebrate Primary Care. They will accept patients who do not have insurance to give them care for immunizations, medications, and primary care. During COVID-19, they were on the frontlines helping their communities as much as possible.
Both organizations do so much to help give their communities get the care they need. We wanted to recognize their amazing efforts to provide assistance to those in need, a BBQ on us was necessary.
We sure love giving thanks to those who are making the world a better place. It warms our hearts (and our smokers) to celebrate our hometown Healthcare Heroes for all that they do. If you know anyone who deserves a random BBQ for all they do they, nominate them here. We sure can't wait to hear about all your smokin' good deeds.