Sonny's Raises $10,000 for Blessings in a Backpack to Help Fight Food Insecurity
At Sonny's, we know that no child should ever have to worry about where their next meal will come from. That's why we are extremely passionate about putting an end to food insecurity in our communities. We recently teamed up with Blessings in a Backpack to help raise funds and provide kids with the essentials they need for healthy meals. Together, with the help of our guests and our Sonny's contribution, we were able to raise $10,000 for the foundation!
---
This donation will help their mission to mobilize communities, individuals, and resources to provide food on the weekends for school-aged children across America who might otherwise go hungry. Children are fed during the school week by federal government programs. However, they want to make sure those children are getting nutritional meals over the weekend, too.
---
BBQ HQ Hosts Packing Event for Blessings in a Backpack
---
As our partnership was nearing an end, we wanted to get hands-on and further our involvement with the foundation to do the most we can to help. We hosted a packing event at our office where we were able to put together 130 bags full of mac & cheese cups, ravioli cups, cereal bowls, granola bars, meat sticks, fruit pouches, yogurt pouches and a small bottle of water. We also took the time to fill each bag with encouraging notes written by our team. Officials with Blessings in a Backpack say the kids love to read their notes. Each bag went to the students at Sally Ride Elementary School Summer Camp. It was such a fun experience to have our whole office involved in improving the lives of the children in our community.
---
Thank you to everyone who helped us raise such impactful funds. We are so grateful to have such generous support from our guests and Sonny's family.
---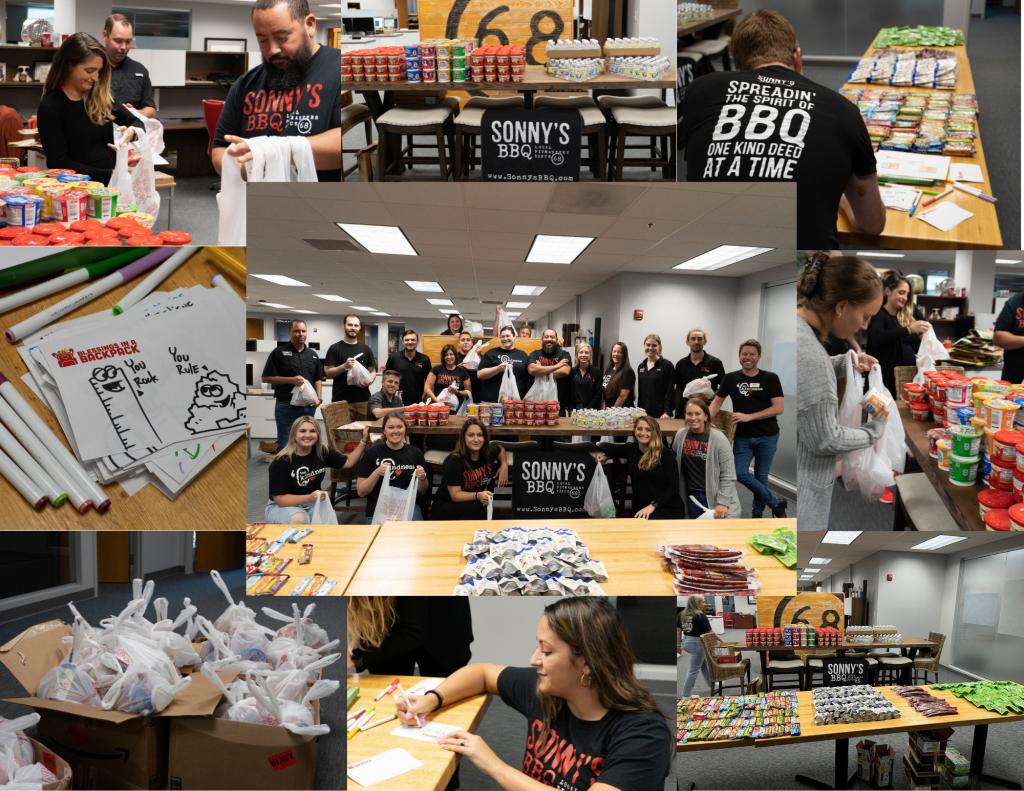 ---
How You Can Help
---
To continue making a difference in these children's lives, you can: