Sonny's is Servin' Up Kindness to Deserving Local Community Heroes
At Sonny's, we know that Teachers, Nurses, and First Responders are at the heart of our communities. Every day these hometown heroes answer the call of duty to teach our children, nurse us back to health, and protect us from harm's way. They each deserve all the recognition for making an impact on the community and working hard to keep us safe. That's why we want to show them our most heartfelt appreciation by surprising them with a BBQ feast. Here are a few ways we celebrated the hometown heroes in our footprint.
---
ICU Nurse – Apopka, FL
---
The Apopka team had the best time surprising Paula, a Nurse Manager, with a #RandomActsofBBQ for being a dedicated and compassionate leader. She works 60 hours a week in the ICU and never hesitates to help her team no matter how busy she already is. Paula's team recalls her being an amazing leader through the Pulse Night Club attack in 2016 and throughout every phase of the COVID-19 pandemic. The Apopka team invited Paula and her team to come into the restaurant and enjoy some smokin' good BBQ to thank her for going above and beyond to lead her team to success.
---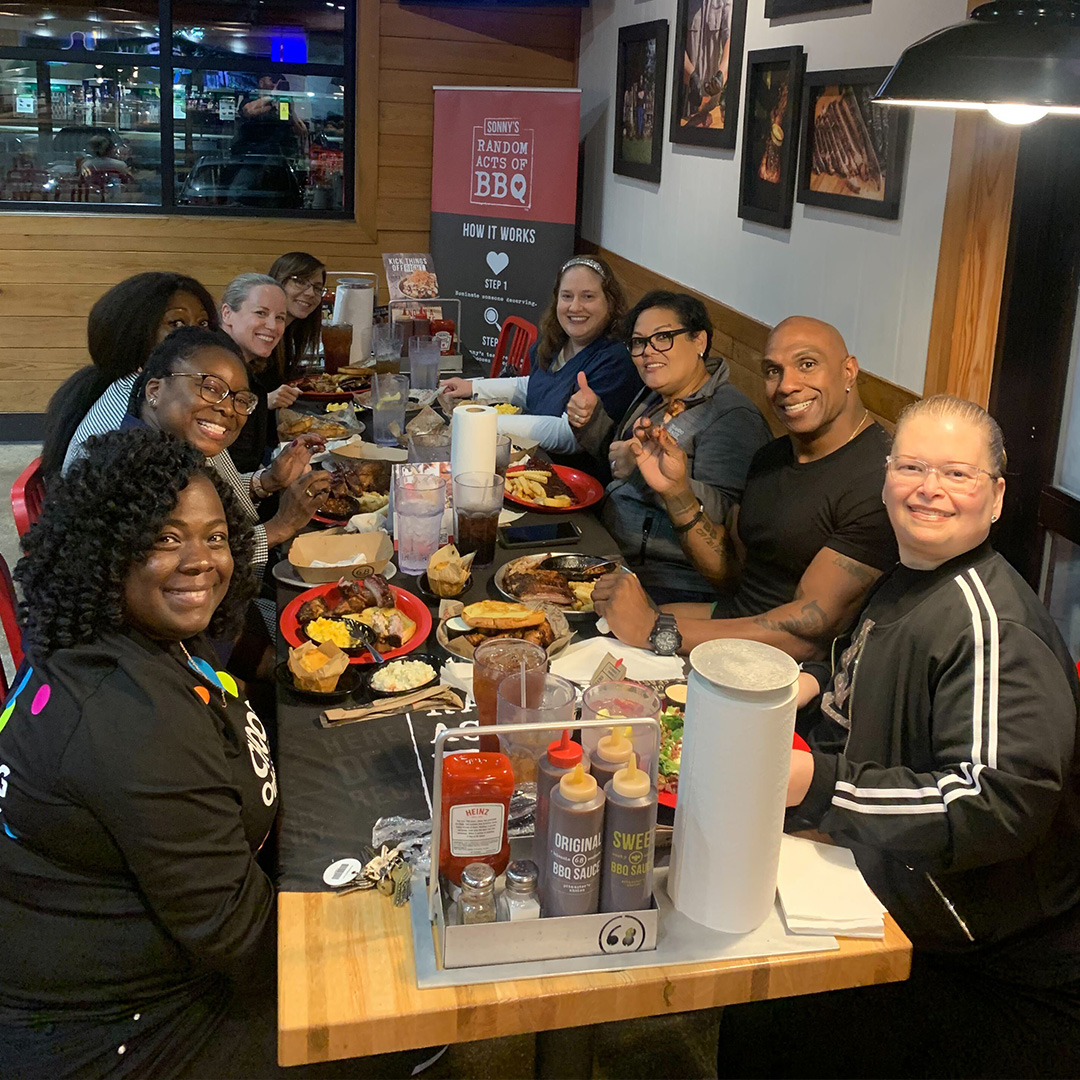 ---
Largo Road Officers – Largo, FL
---
The team at Largo spent the day surprising the Largo Road Prison Officers with a #RandomActsofBBQ for their hard work and dedication. When the pandemic struck, the facility was forced to shut down with little notice, causing most employees to either quit or transfer over to another facility. Recently, they reopened and most officers were able to return and begin rebuilding the tight knit family bond they once had. They are dedicated to rebuilding a good culture and safe environment for everyone in their facility. We are so grateful we got to celebrate their return with them!
---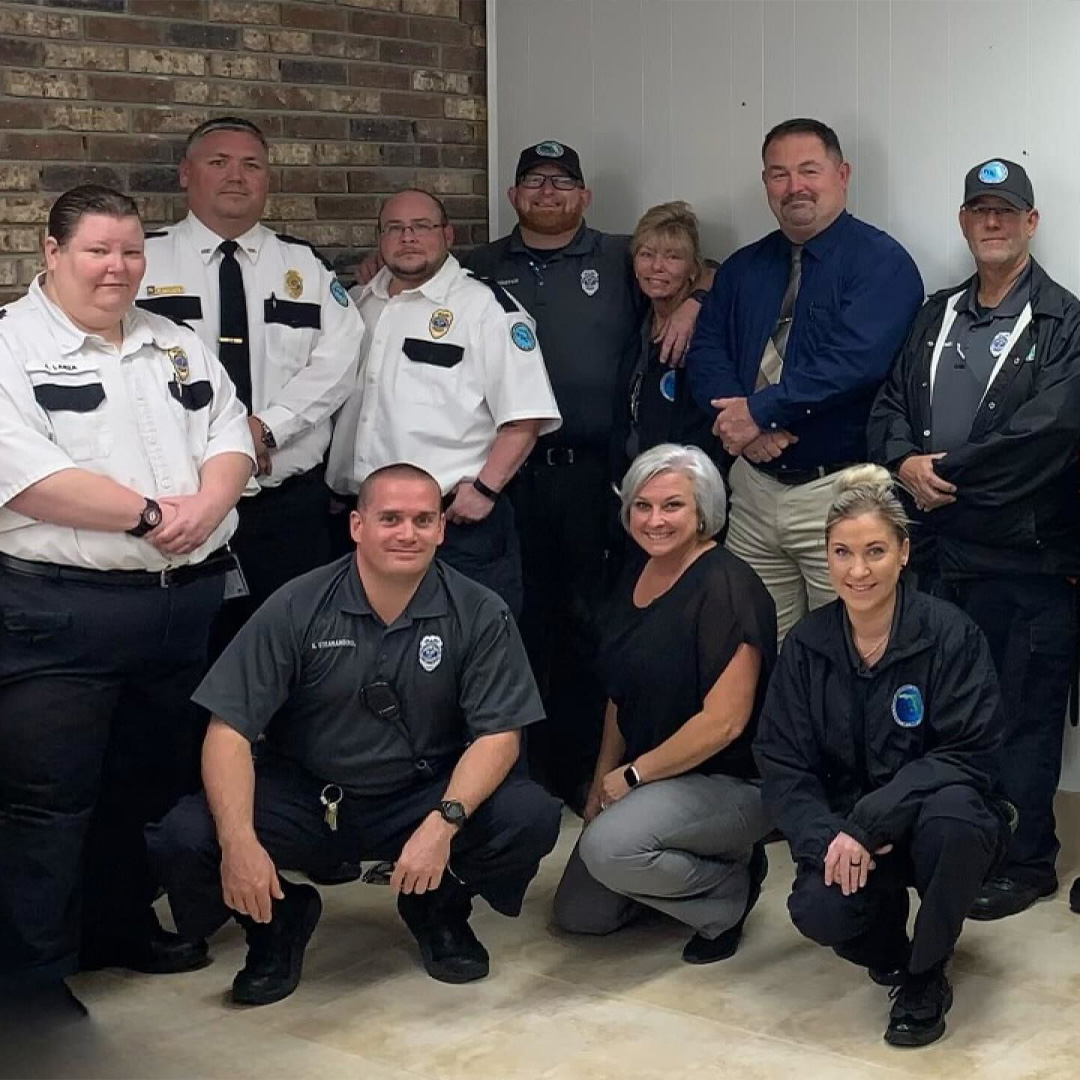 ---
Mrs. Wiltrout – Apopka, FL
---
The team at Apopka recently had the pleasure of surprising Mrs. Wiltrout, a 5th grade teacher at Clay Springs Elementary, with a Random Act of BBQ for being a valuable asset to faculty and students. Her team says, Mrs. Wiltrout is as a collaborative spirit, hard worker and she truly cares for each and every one of her students. As the 5th grade Math Team Leader, she works hard to meet the needs of her fifth-grade students both inside and outside of school hours. She planned and ran the Acceleration Math program last fall in the absence of their coach. Her dedication to student achievement carried over to the summer as she worked every day for the month of June to support fifth graders in improving their math skills. Mrs. Wiltrout also led the summer school math team and provided extra support to teachers who had never taught the content area before. She also wrote a grant last spring in the hopes of securing funding for an after-school Robotics Club. Her focus on supporting students to engage in STEM opportunities is essential to accelerate their learning and to work to close achievement gaps. Mrs. Wiltrout is greatly appreciated by her team at Clay Springs Elementary and they couldn't wait to surprise her. We are so happy we got the opportunity to recognize her and be a part of her celebration.
---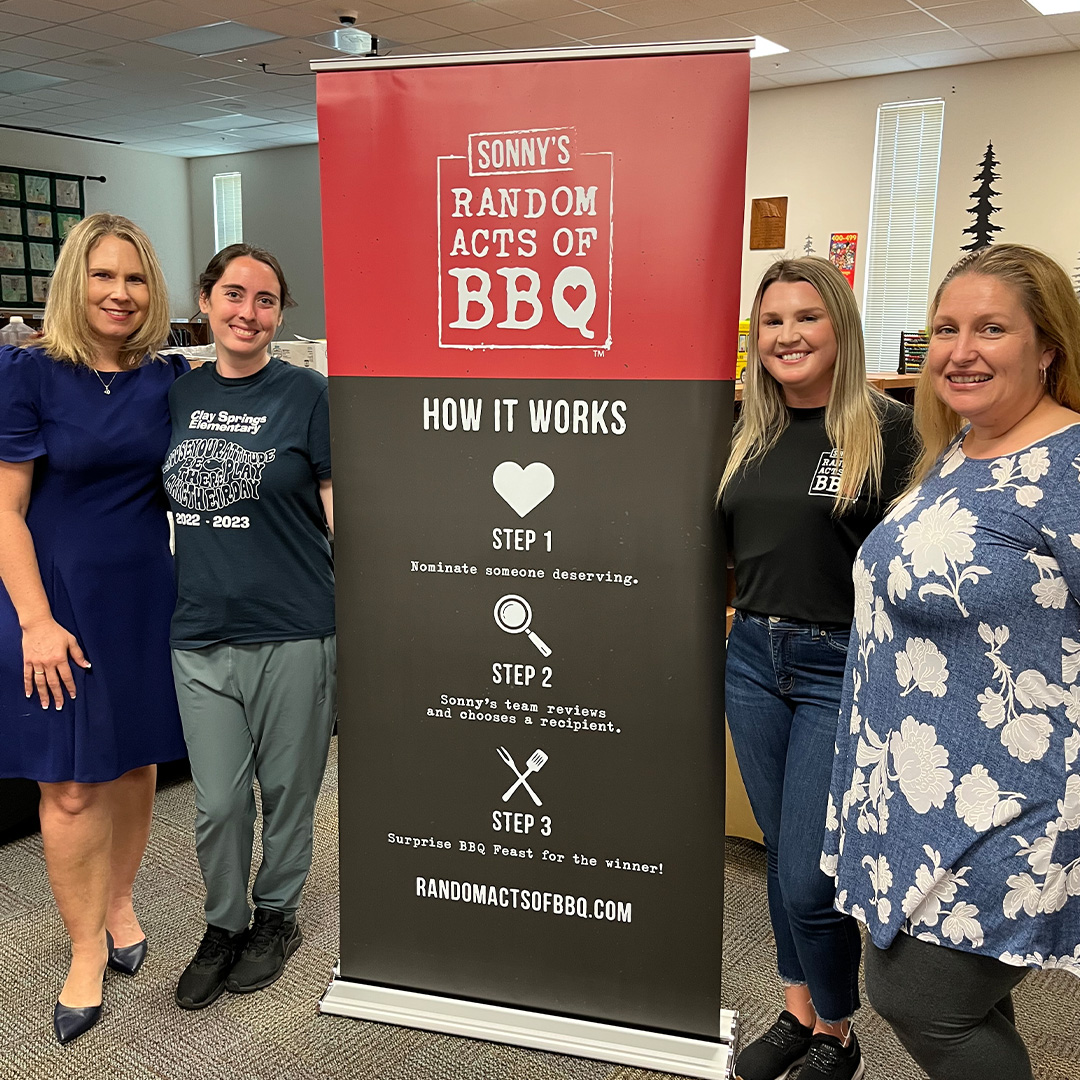 ---
Apopka Fire Department
The team at the Apopka location surprised their fire stations with some delicious BBQ. The fire rescue team does so much for Apopka and the Sonny's team wanted to return the favor by loading up the truck and feeding their local fire crews.
---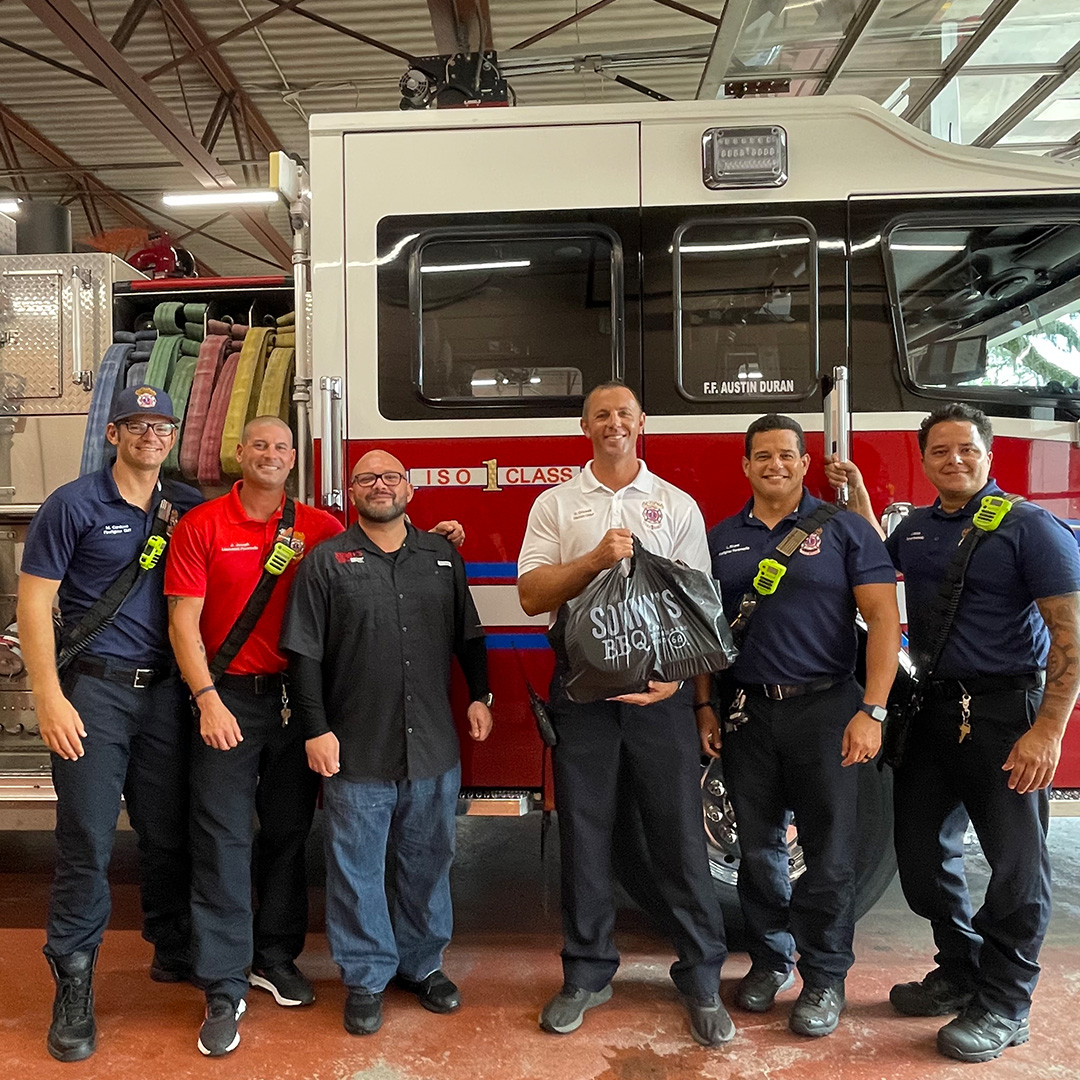 ---
Jacksonville Fire Department
---
The team at the Jacksonville location brought some BBQ lunch to the hardworking Jacksonville Fire Department to show their appreciation and spread kindness to the deserving crew.
---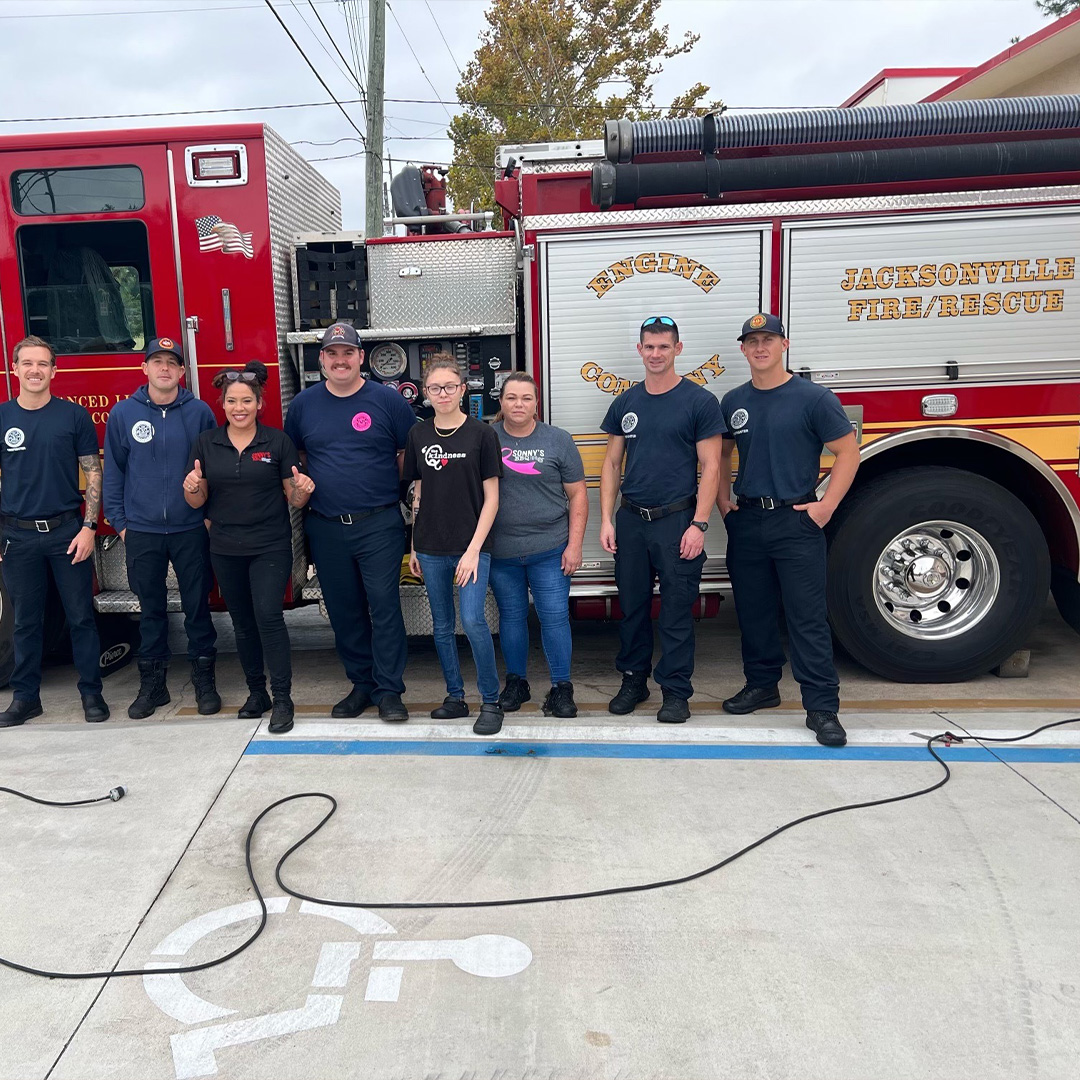 ---
Share the Stories of Heroes in your Neighborhood
---
We love hearin' all about the good deeds your local heroes are doing in the community. Do you know of a time when a hometown hero went out of their way to show kindness? If so, nominate them for a chance to be recognized and celebrated! Visit RandomActsofBBQ.com to nominate them.