Sonny's Summer of Salads
Lookin' to get your Sonny's salad fix? You've come to the right place. We've added a few new leafy greens to get your light meal in all summer long.
---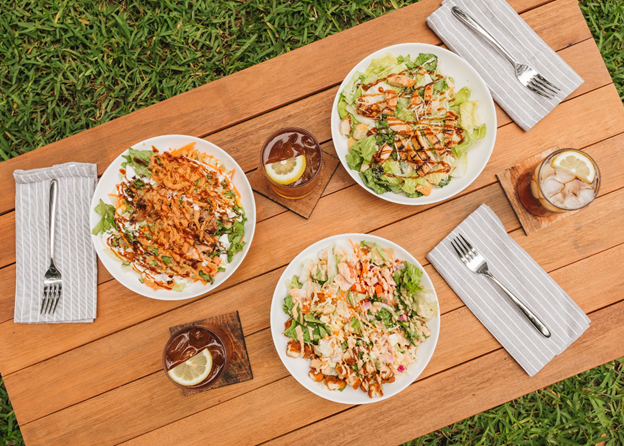 ---
Let's introduce you to our new and improved Smokin' Caesar salad. Based with smoked Romaine, dressed in crunchy croutons, shredded Parmesan cheese, slathered in Caesar dressing, and drizzled with our Smokin' BBQ Sauce to complete our Sonny's salad twist.
Our BBQ Salad is the ultimate green fixin' to fill your BBQ cravin'. Our mixed greens tossed in Ranch dressing topped with grilled corn, tomatoes, cucumber, diced red onion, shredded Cheddar and drizzled with Sweet BBQ sauce. You even have the option of adding your favorite BBQ meat for a little 'Q to your crunch.
The BBQ Cobb salad is rollin' in with hard-boiled eggs, bits of chopped bacon, and shredded Pepper Jack cheese and Smokin' Ranch dressing. It's perfect for enjoyin' poolside with a refreshing sweet tea.
If you're lookin' to keep things simple, the answer is our side salad. Enjoy some mixed greens, cucumbers, tomatoes, and croutons and your choice of dressin'.
The best part? You have three different options of where you want to enjoy them. Order 'em to go, and pick them up curbside, have them delivered, or enjoy them right here in our restaurant. We're lookin' forward to servin' you up your garden of eatin' all summer long.