Sonny's Partners with First Responders Children's Foundation to Raise Funds and Support a Good Cause
First responders are at the heart of our communities and the heroes that work tirelessly to keep us out of harm's way. At Sonny's, we know the importance of showing our appreciation for their bravery and dedication to putting others first. That's why we are teaming up with First Responders Children's Foundation to bring awareness to their incredible work and help raise funds for the Foundation. 
---
First Responder Children's Foundation helps support children and families of first responders who have lost their lives or been injured in the line of duty. The Foundation began 22 years ago when 800 children lost their parents on September 11, 2001, and has been supporting first responder families' lives ever since. 
---
Their mission is to support children who have lost a parent in the line of duty and families struggling with financial hardships. The Foundation has developed programs around four main areas of impact: scholarships, mental health, financial assistance and first responder community engagement.
---
---
FRCF gives out scholarships to children of first responders. The Foundation also works with corporate partners to host job fairs to give students an opportunity to land their dream job and gain real-world experience.
---
---
The First Responders Children's Foundation "Resiliency Program" provides expert mental and behavioral health counseling at no cost to first responder families. The Program is available in six states and was created in response to the mental health crisis disproportionately affecting children post-pandemic. The Resiliency Program strives to protect and strengthen the mental health of children of police, fire, sheriff, emergency medical personnel and 911 dispatchers.
---
---
FRCF awards grants to individuals and to first responder agencies to support children whose first responder parent has lost their lives or sustained severe injuries in the line of duty. Disaster Relief grants are awarded to first responders and their families who have suffered an unexpected natural disaster, such as a hurricane, wildfire, flood or tornado. Bereavement Assistance is available to support those who have tragically lost a first responder family member.
---
---
FRCF strives to build positive relationships between first responders and their communities. Various programs such as the "Toy Express" provide first responder agencies and hospitals all over the USA with free toys to give out to children during the holidays. At Junior First Responder cadet camps, kids learn firsthand about what it's like to be a firefighter or a police officer. Other examples include deep-sea fishing with cops, a music program with first responders and youth to write and perform original songs and an initiative that offers girls and young women the opportunity to learn about careers in fire services. Community Engagement grants provide creative outlets to enhance children's social and emotional growth while also strengthening their physical and mental well-being.
---
Annual Events
---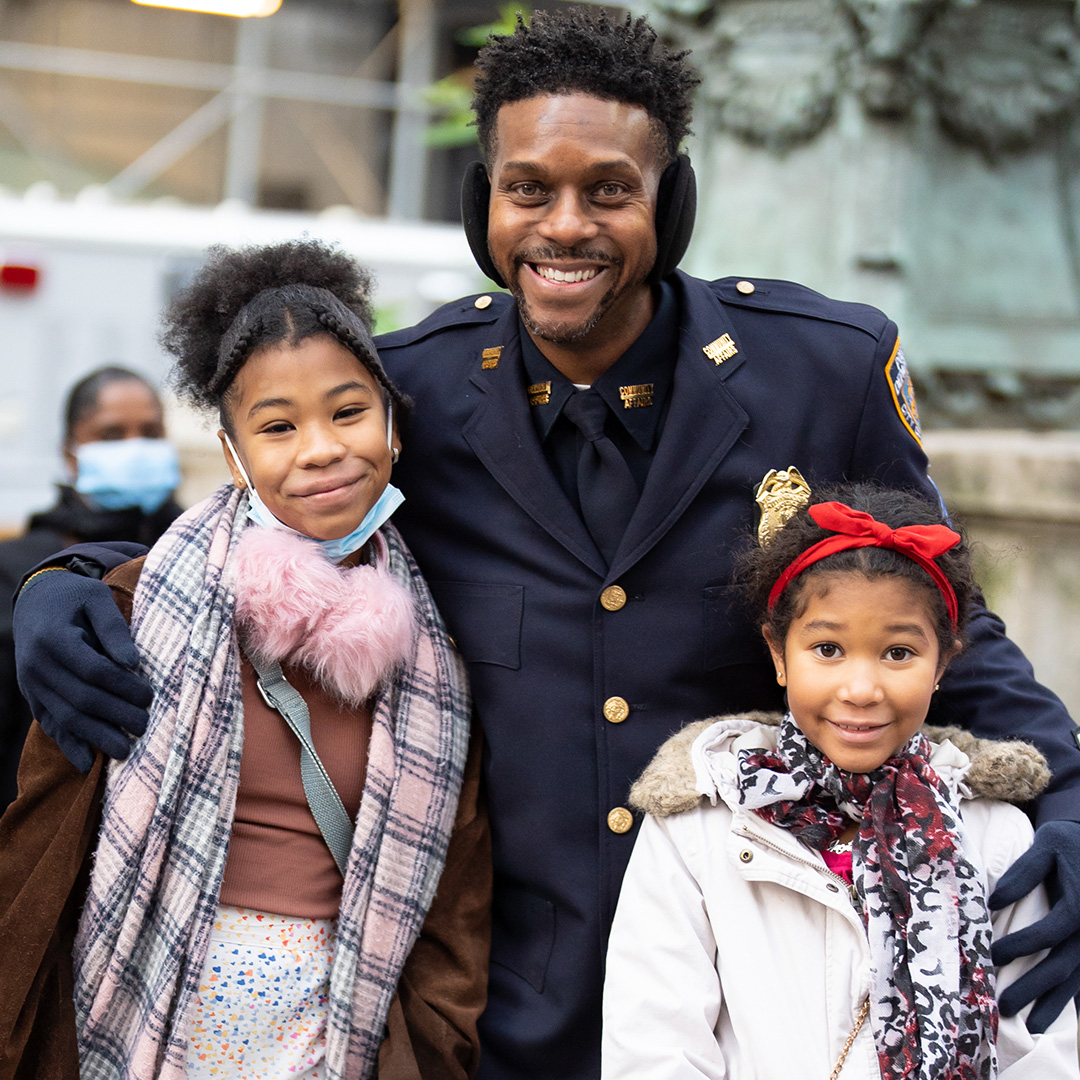 ---
FRCF invites children and relatives of fallen heroes every Thanksgiving for breakfast and a front-row view of the Thanksgiving Day Parade.
---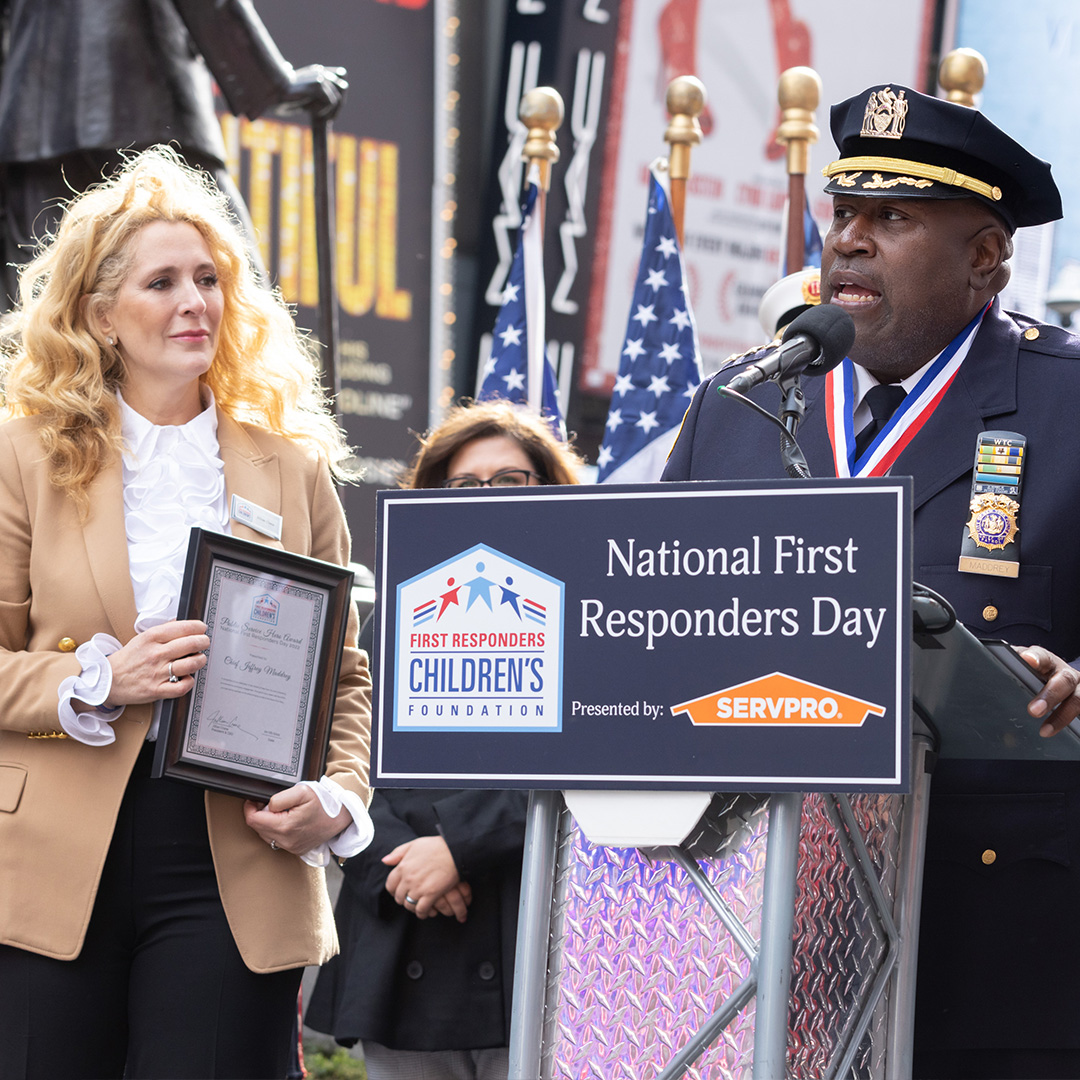 ---
On National First Responder Day, October 28, FRCF hosts a tribute in Times Square where a Hero Award is presented to a member of each first responder category across the country: police officer, firefighter, paramedic/EMT, nurse, and medical personnel. Each hero accepts the award on behalf of all first responders in their category.
---
There are so many ways this incredible Foundation helps the children and families of first responders, and with your extra help, the possibilities are endless.
---
To help make a difference in a first responder's life, you can:
---