Sonny's Celebrates Random Acts of Kindness Week by Spreadin' Kindness to Local Communities with Chief Kindness Officer 
Random Acts of Kindness Week was created in hopes of encouraging people to practice selfless acts and be a positive light for those around them. Even one small act of kindness can mean a great deal to somebody and cause a tidal wave of good deeds to follow.
---
This year, we wanted to celebrate in a big way! Our Chief Kindness Officer, Kennon Adkinson, hit the road with eight stops in eight days in parts of Florida, Georgia and Kentucky to visit each one of our Kindness Crew members and join them in giving back to their local communities all week long. Each crew member got to pick a local organization that is near and dear to their hearts to do a kindness activation for. Not only did we want to spread some kindness their way, but we also wanted to take this opportunity and use our platform to raise awareness of all the great things each organization is doing to help those in need.
---
Stop #1 – Apopka, FL
---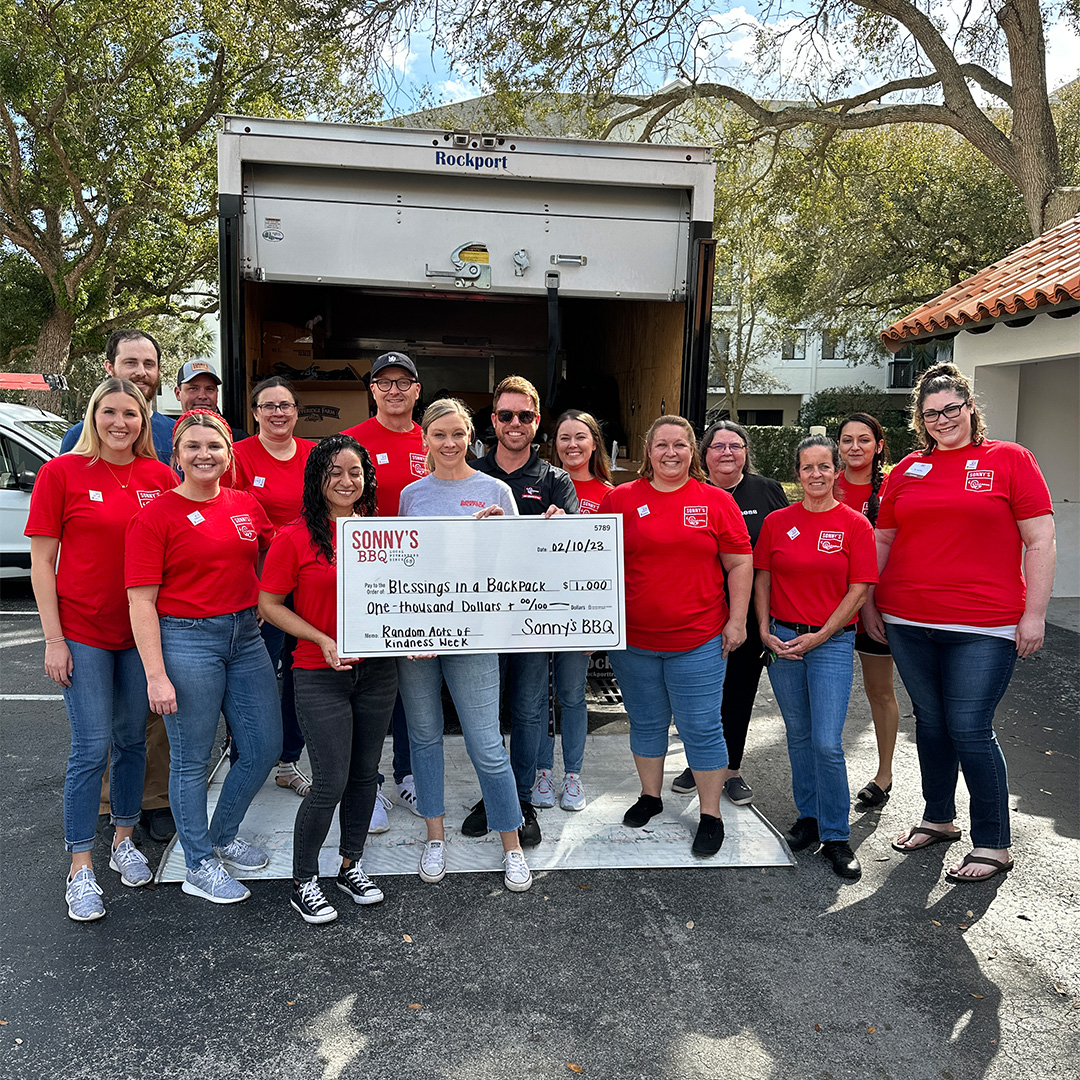 ---
Kennon kicked off kindness week with Claudia in Apopka. Claudia has a special place in her heart for children in need. She chose to work with Blessings in a Backpack to build out 1,000 bags full of prepackaged meals that kids can take home with them. Each bag was filled with two breakfast entrees, two lunches, and two snacks. They also attached kind notes to each bag as a surprise for each child to read. The best part about this event was that it was held at Sonny's BBQ HQ, so we had lots of team members stop by to participate. It was such a fun event to have everyone together lending a helping hand. It took about an hour to get all the bags done and loaded up into the truck. At the end of the event, Kennon and Claudia surprised the organization with a $1,000 donation. This donation will help them feed 250 more students in the Greater Orlando area.
---
Blessings in a Backpack is a nonprofit organization with over 1,100 volunteer-driven programs across the United States. They got their start in 2008, when the Founder, Missy Hammerstrom, realized how often children do not get a meal outside of school. Their mission is to mobilize communities, individuals, and resources to provide food on the weekends for school-aged children across America who might otherwise go hungry. Children are fed during the school week by federal government programs, but they want to make sure they're getting nutritional meals over the weekend, too.
---
Stop #2 – Starke, FL
---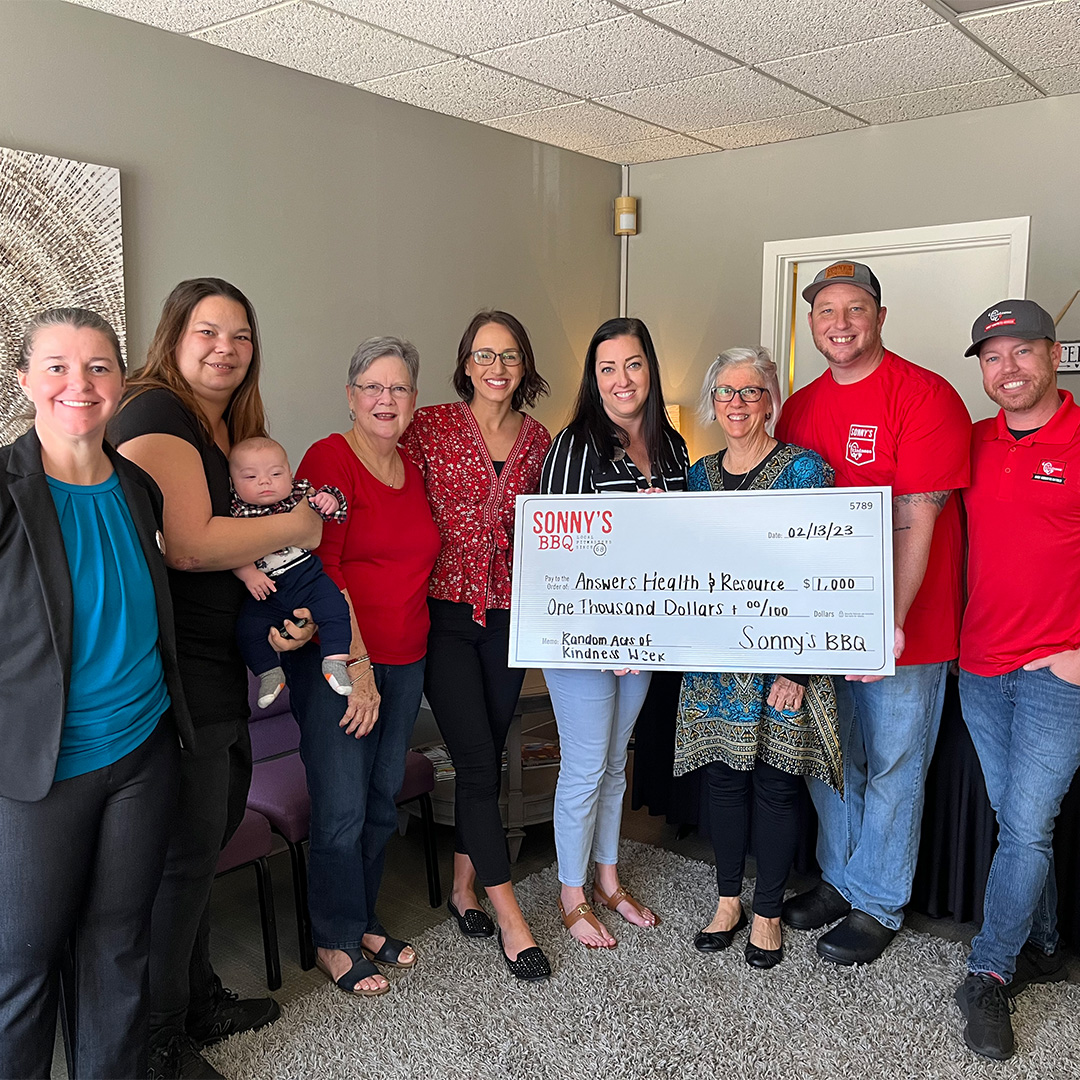 ---
Kennon started off Day 2 at the Starke location visiting Greg and his team. They spent the day at the Answers Health and Resource Facility feeding the staff and volunteers and getting to know a little more about what they do. Greg also surprised their team with a $1,000 donation to their facility that they can put toward gathering essential items for their members. They had such a fun time learning more about their organization and speaking with some of the people that the facility has helped. They were so excited to enjoy some tasty BBQ and extremely appreciative when Greg surprised them with his donation.
---
Answers Health and Resource Facility is a non-profit organization that helps people get back on their feet when they are going through a tough time. They mainly work with women who come to them for support with domestic violence, pregnancies, and raising children on their own. They offer internship programs, mental health support, and classes on life skills so that no woman feels alone in their hardships. Their members can intern with them for a few months and once they feel they are ready, Answers will write them a letter of recommendation to help them get a new job in the community.
---
Stop #3 – Kingsland, GA
---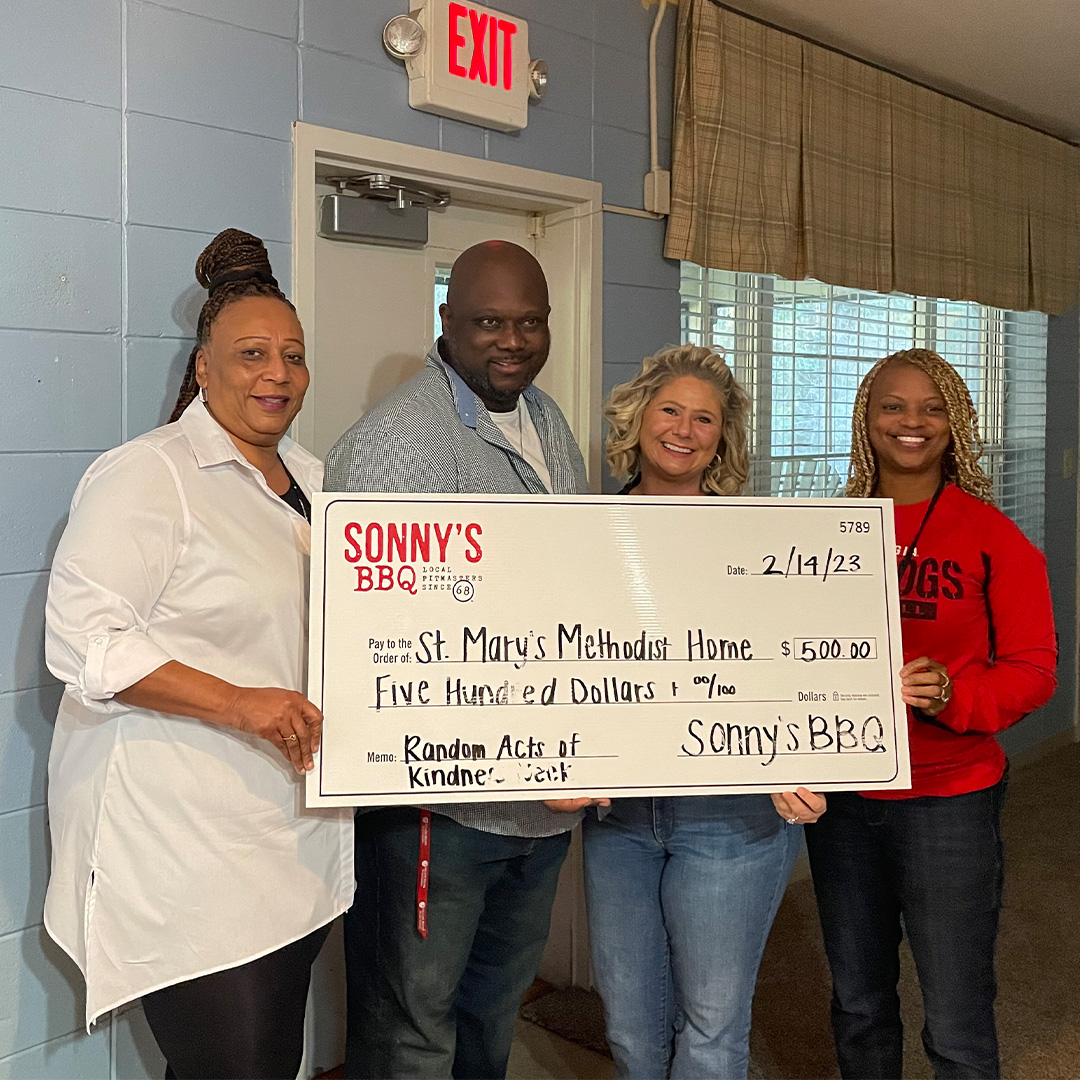 ---
Next up was a stop in Georgia to visit Michelle at the Kingsland location. Michelle wanted to do a kind act for the St. Mary's Methodist Home for Children and Youth. They catered their dinner, surprised them with a $500 donation, took them to the movies to watch "Puss in Boots: The Last Wish" and bought them all the movie snacks they wanted. Kennon and Michelle really enjoyed talking with the kids over dinner and watching their excitement over their trip to the movies. We are so glad Michelle picked this charity for her kindness activation.
---
St. Mary's Methodist Home is a foster care home that shelters children while enriching each child's life to prepare them to transition into productive, healthy adult members of society. They provide residential care at several sites in South Georgia to address the needs of abused, neglected and abandoned children across the state of Georgia. Right now, they care for five boys that we got to spend some time talking to. Most of them are into sports and play for their school's teams. Ms. Myra is their caretaker, and she is an absolute sweetheart. She is always thinking about their best interests and talks so highly about each kid she watches over.
---
Stop #4 – Jacksonville, FL
---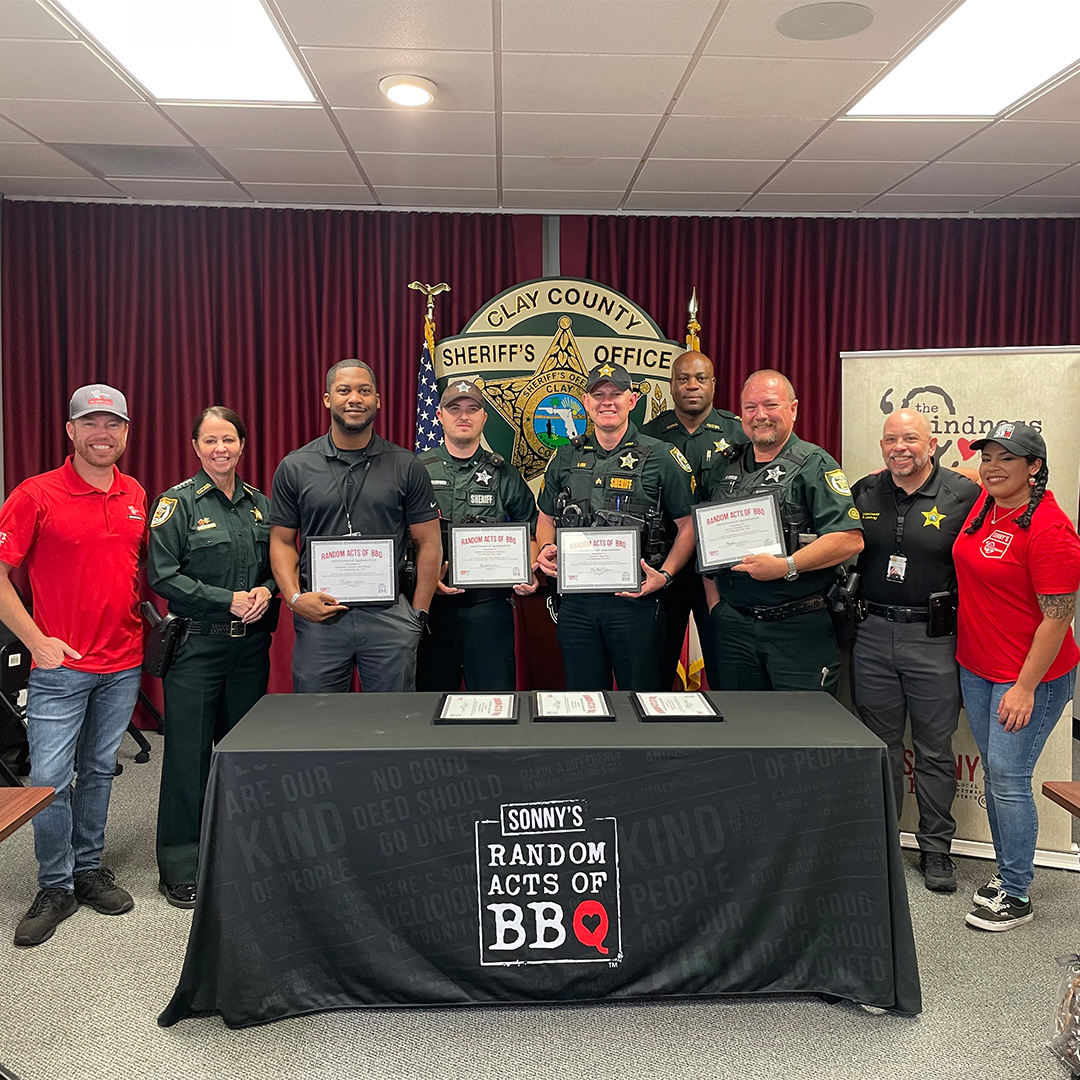 ---
Kennon's next stop was in Jacksonville to visit Jessica and her team at the Lane Ave location. She chose to surprise the Clay County Sheriff's office with a couple of Random Acts of BBQ for some deputies that have helped her in the past. She presented 7 deputies with RABBQ certificates and surprised their office with a catered BBQ feast full of pulled pork, chicken, mac and cheese, coleslaw, BBQ beans, and cornbread. The deputies were so appreciative that Jessica took the time to recognize them and share her positive stories with them. They were excited to have a Sonny's BBQ meal for lunch and had us make some to-go boxes for the deputies to bring out to their partners that were out on a call.
---
With over 640 deputies, under the leadership of Sheriff Michelle Cook, the Clay County Sheriff's Office strives to foster a safe community where families and businesses thrive, while proudly serving our community with honor and courage. These deputies have helped Jessica through some personal situations and once helped her get her money back when her wallet was stolen. Jessica says that she has always felt safe in her community and gives them all the credit for making the community a safe place to live happily.
---
Stop #5 – Nicholasville, KY
---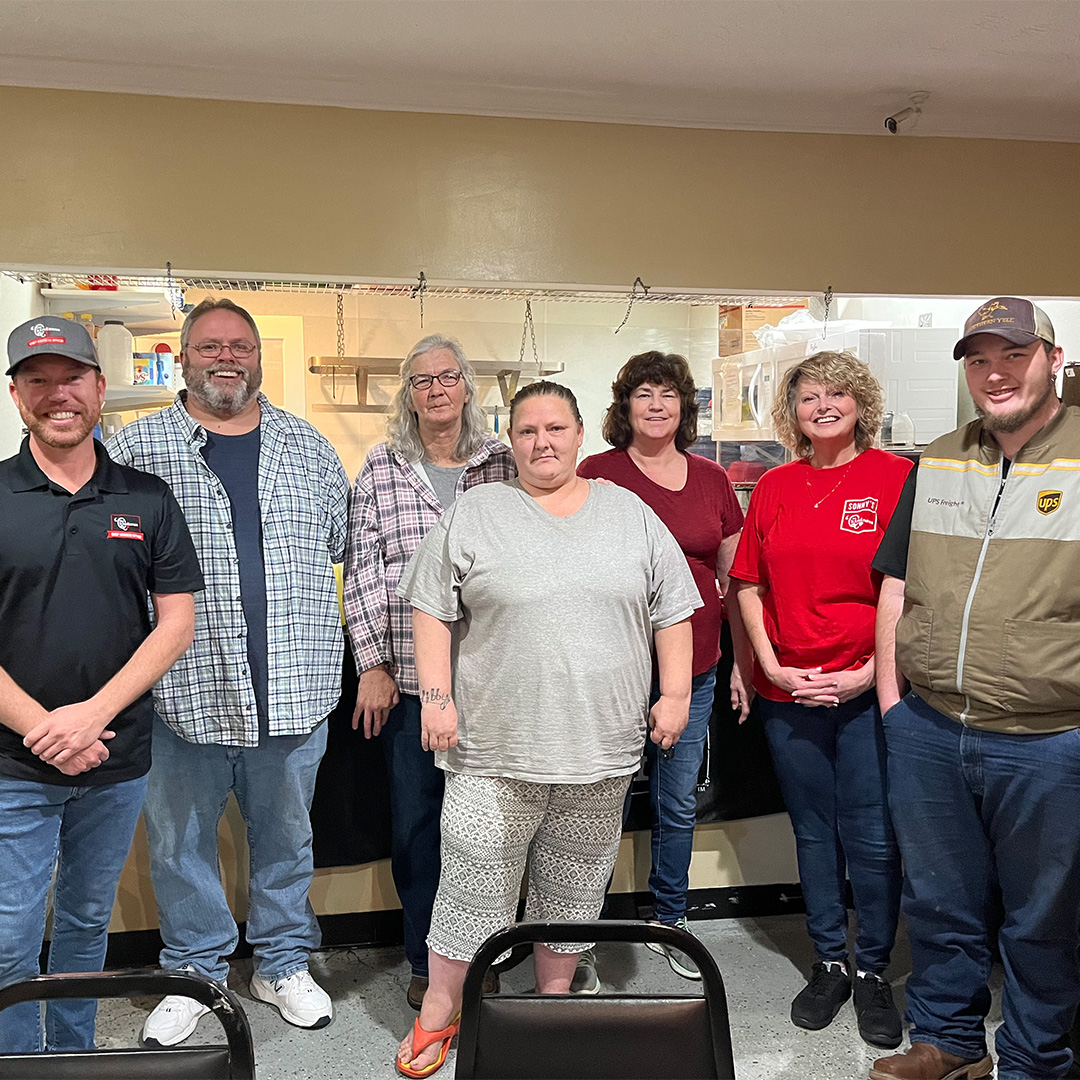 ---
Kennon continued the kindness celebration in Nicholasville, KY with Tina and her team. They spent the day at the Jessamine Homeless Coalition passing out BBQ meals and smiles to all the residents, team members and volunteers. They also donated 10 bags filled with hygiene products like shampoos, conditioners, deodorants, body washes, and other necessities they were in need of. It was a special surprise. They were so thankful and gave Tina the biggest hugs. Tina has worked with them before as she anonymously donates trays of food monthly but wanted to do a big activation for them during kindness week. She has a special place in her heart for helping the homeless community because she says they are often a forgotten/ignored group. It was heartwarming to hear their stories and see how grateful they were for a warm Sonny's meal. They shared many stories with us about their situations and how the coalition has been a beacon of hope for them.
---
The Jessamine Homeless Coalition provides temporary shelter to those in need in Jessamine County. They not only provide shelter and food for their residents, but they also allow anyone to stop in for a meal when food is available. A couple of their team members and volunteers shared with us that they used to be a resident at the coalition and have now gotten back on their feet enough to give back and help them.
---
Stop #6 – Richmond, KY
---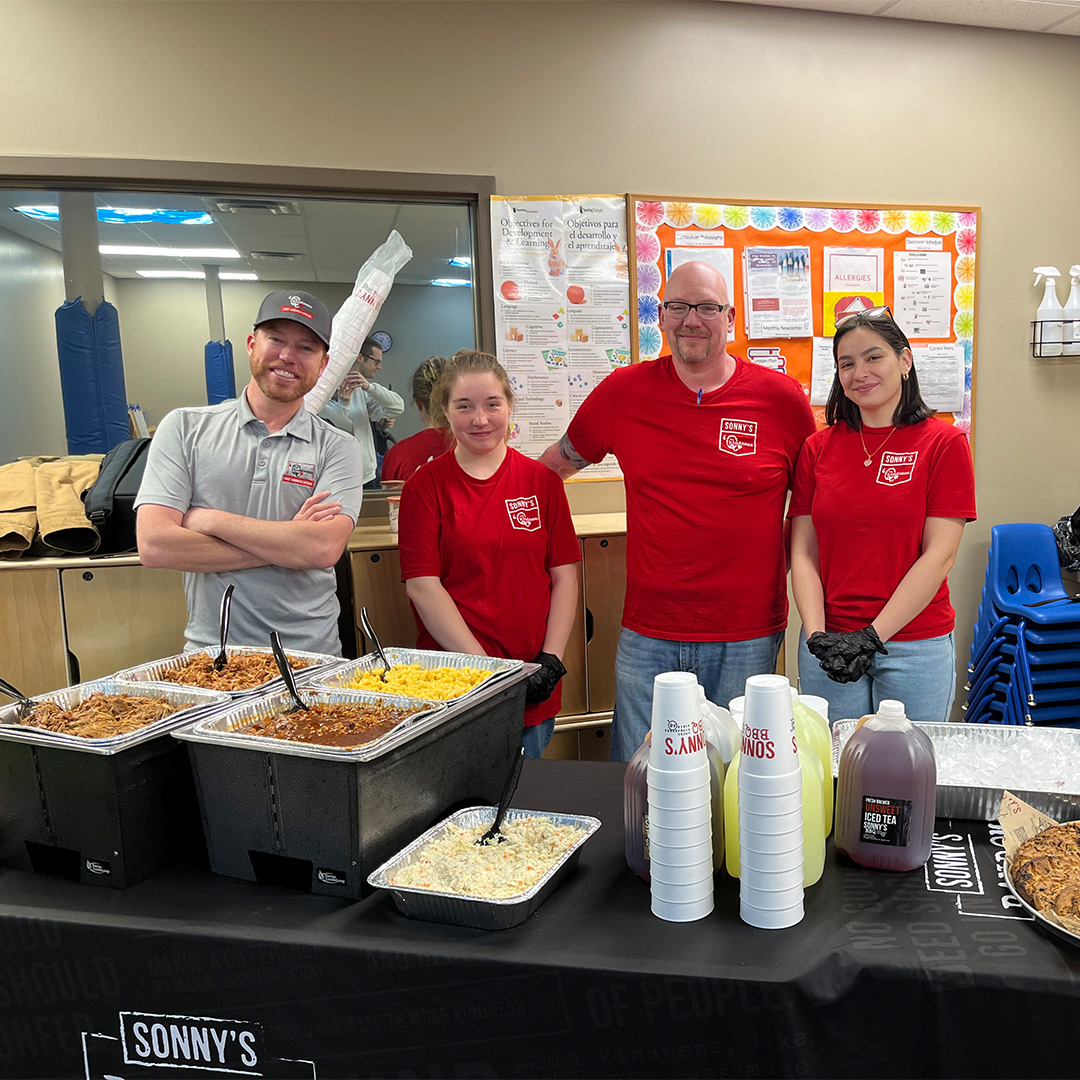 ---
While in Kentucky, Kennon also visited Emily and her team at the Richmond location. For her kindness activation, they went to the Prep Academy at Madison County to cater lunch for the hardworking teachers of the preschool. Emily also spent weeks collecting clothes for children from infant ages to 5 years old to surprise the teachers with. They were so shocked and excited to have new clothes for their students since they are a newer facility and don't have a lot of donations coming in. It was such a nice moment watching Emily hand them the donations.
---
The Prep Academy is a head start program in Richmond, Kentucky. They work with underprivileged children and Hispanic children to teach them English and prepare them for kindergarten. They often will give them care packages too with all the essentials their families need. Emily knew of this program because she grew up being taught at a similar one in California. Her mom now works at the Prep Academy in Richmond and helped get us in contact with the right people to pull off this surprise! It was so nice to meet the teachers and a few of the students. They were also celebrating Kindness Week and had their students' paintings about kindness all over the walls in the hallway. It was nice to see another company celebrating such an important week.
---
Stop #7 – Haines City, FL
---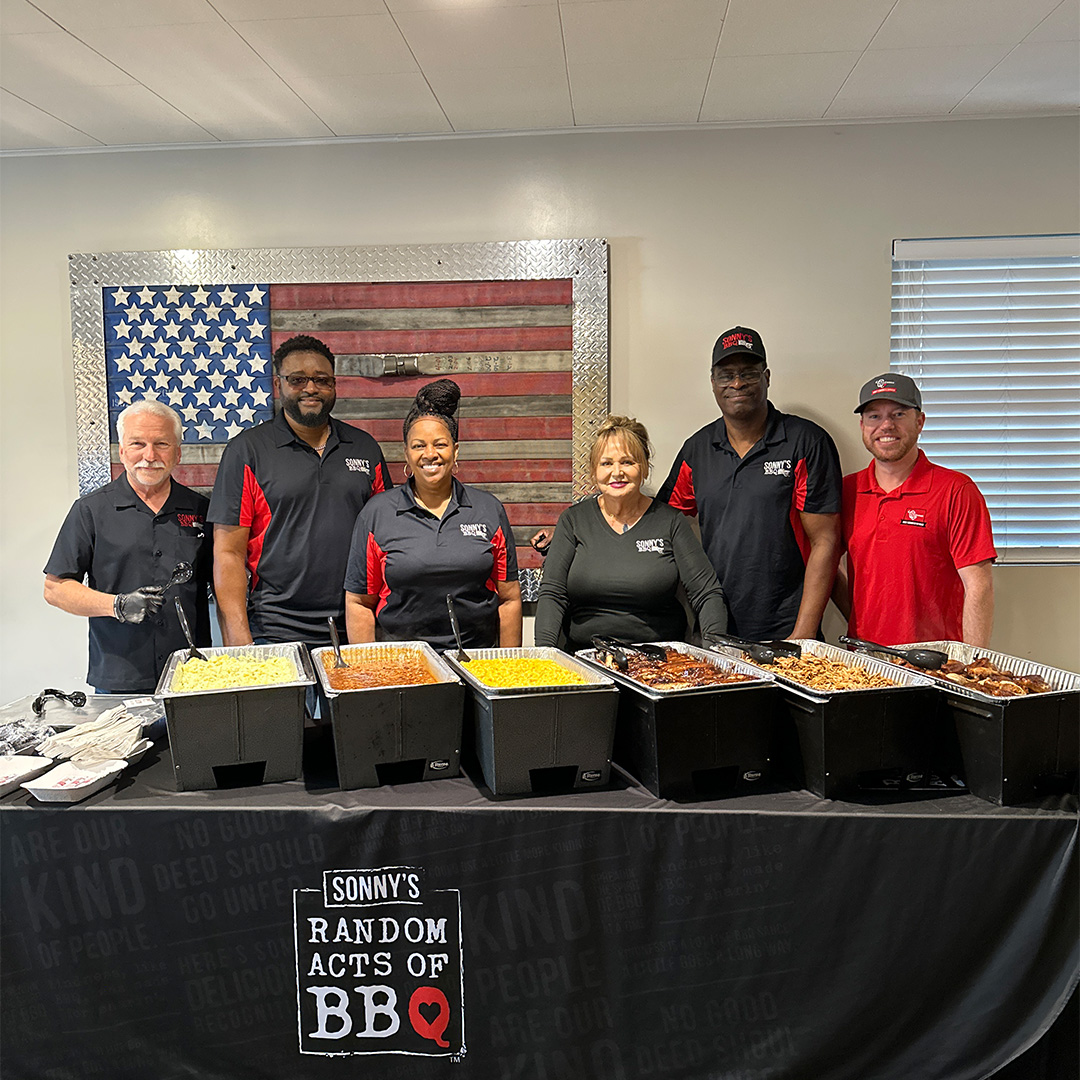 ---
Next, Kennon was back in Florida with Miss Rose in Haines City. Miss Rose wanted to give back to her local firefighters for all that they do for her community, so they catered lunch to the Haines City Fire Department. They were so appreciative to have a few moments to sit down and enjoy some BBQ before jumping back into action when they received a call and had to go. They also surprised them with RABBQ Free Meal Coupons for them to pass out to anyone they might know in need of a free warm meal. The firefighters loved the idea of being able to help their local community with the coupons and were extremely grateful. Miss Rose had such a great time chatting with them and thanking them for all they do to keep her town safe. They also invited some Polk County first responders that were close by to come to enjoy the catered meal and sweet tea.
---
The Haines City Fire Department is proud to serve the residents and visitors of Haines City, Florida with the leadership of Fire Chief, Tom Murphy. Their services to the community include Fire Suppression, Basic Life Support, Fire Prevention / Community Risk Reduction, Fire Inspections and Plans Review.
---
Stop #8 – New Port Richey, FL
---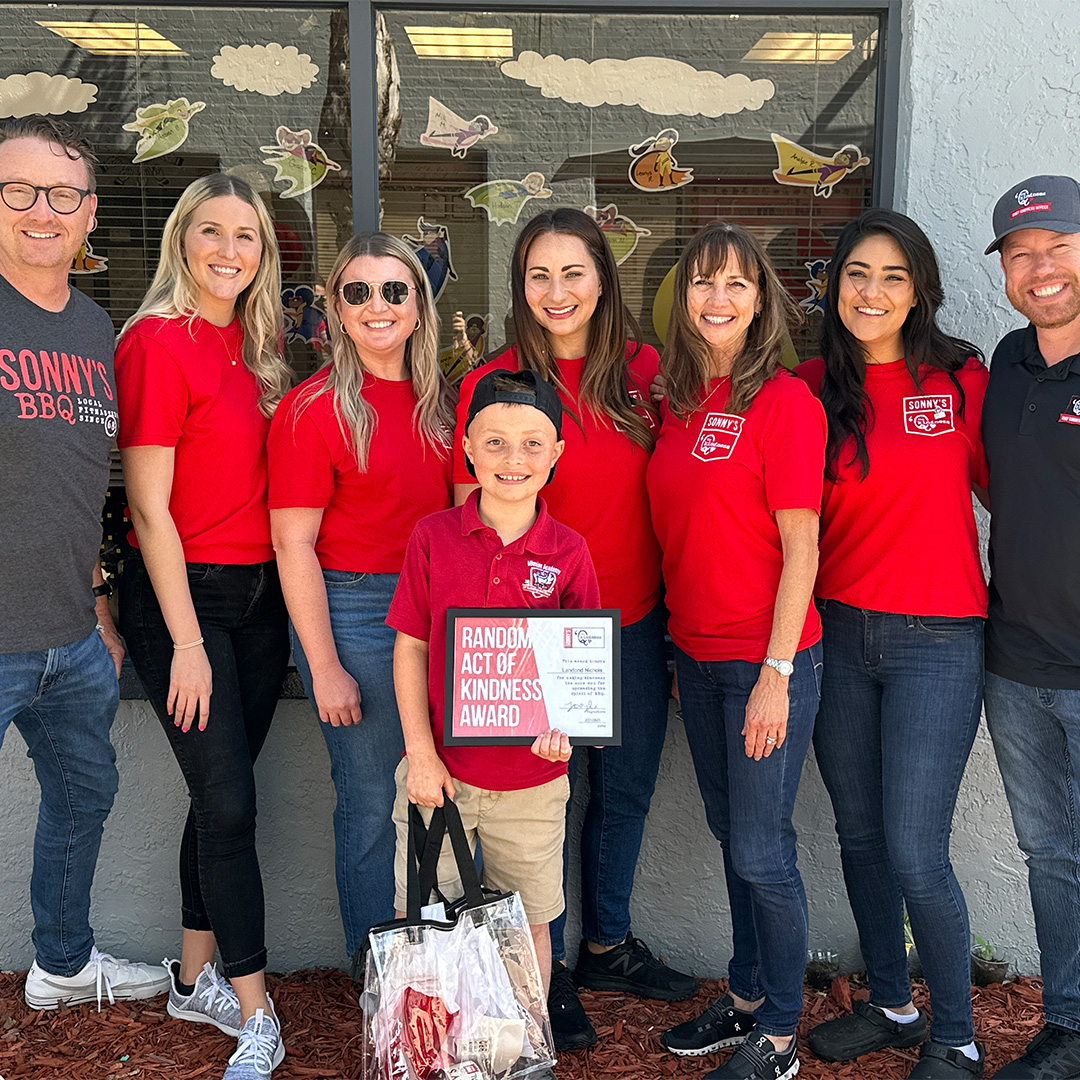 ---
The last stop to end an eventful roadshow was in New Port Richey with Tara and her team. Tara had the great idea of creating fun ways to teach kids that being kind at school is cool. She worked with two schools having them nominate students they saw doing a kind act. She even made certificates that said "Caught Being Kind" to pass out to the students going above and beyond to be kind to their peers. This incentive got students so excited to spread kindness in their school and earn themselves a certificate. At the end of the week, she read through dozens of nominations to find the two she wanted to celebrate and surprise with a catered meal for their classrooms.
---
The first school they stopped at was Athenian Academy of Technology and the Arts. The student nominated was a 3rd grader who greets a new kindergarten student every day at the car loop and walks the new student to breakfast each morning and sits with her so that she is not alone and has a friend until she makes some and feels comfortable going to breakfast on her own. He held her hand the whole way there, so she was not worried about getting lost. He is such a good kid and was so excited that his whole class got BBQ for lunch because of his kind act. The whole class was so talkative and appreciative of the meal. They were so happy for him and congratulated him before they ate. It was such a fun and special moment.
---
The second school they went to was Palm Harbor Middle School. The student here was recognized for being a true friend to many students. She shows kindness that stems from her innate empathy and compassion. She has a twin brother that is on the spectrum and because of that she has shown kindness in school to other students that are on the spectrum. She encourages others to do their work in class and helps with a smile on her face. At home, she assists her mom in taking care of her siblings and goes beyond the expectation of a 13-year-old. It was so nice to meet her and surprise her with a Random Act of BBQ. Her mom and little sister were also there, which might have been the best part of the surprise. She was so happy to see them!
---
That's a Wrap on the Chief Kindness Officer Roadshow
---
The CKO Roadshow was an incredible week full of laughter, heartfelt tears, and putting a little good back into the world one kind deed at a time. Kennon and the Kindness Crew are always looking for ways to spread kindness in their communities and to those who need it most. They are so admirable and inspire us to be the best we can be every day.
---
There are so many ways to spread kindness through your community. Do you have a story of a time when you or someone close to you was impacted by kindness? Share your stories with us at QtheKindness.com.