Sonny's is Adding Three New Members to the Kindness Crew for Giving Tuesday
Giving Tuesday is a national holiday celebrated the Tuesday after Thanksgiving in hopes of building a world where generosity is a part of everyday life. It was created with the simple idea of starting a day that inspires people to do good and has now become a global movement inspiring others to spread kindness in their communities.
---
To celebrate, Sonny's is continuing the Giving Tuesday tradition of adding to our Kindness Crew. The Kindness Crew is made up of five team members who are passionate about spreading kindness and helping others. They are led by our Chief Kindness Officer, Kennon Adkinson, who helps guide our mission of going beyond smokin' and servin' to do what's right in our local communities. 
---
Three new members will join the Chief Kindness Officer in our mission to spread the spirit of BBQ one kind deed at a time. Each new member was nominated by their teammates for going above and beyond to give back to their communities and care for the people around them. They'll each have the opportunity to donate $2,500 to a charity of their choice on the National Day of Giving.
---
Meet the Newest Members of the Kindness Crew
---
Greg S. | General Manager – Valdosta, GA
---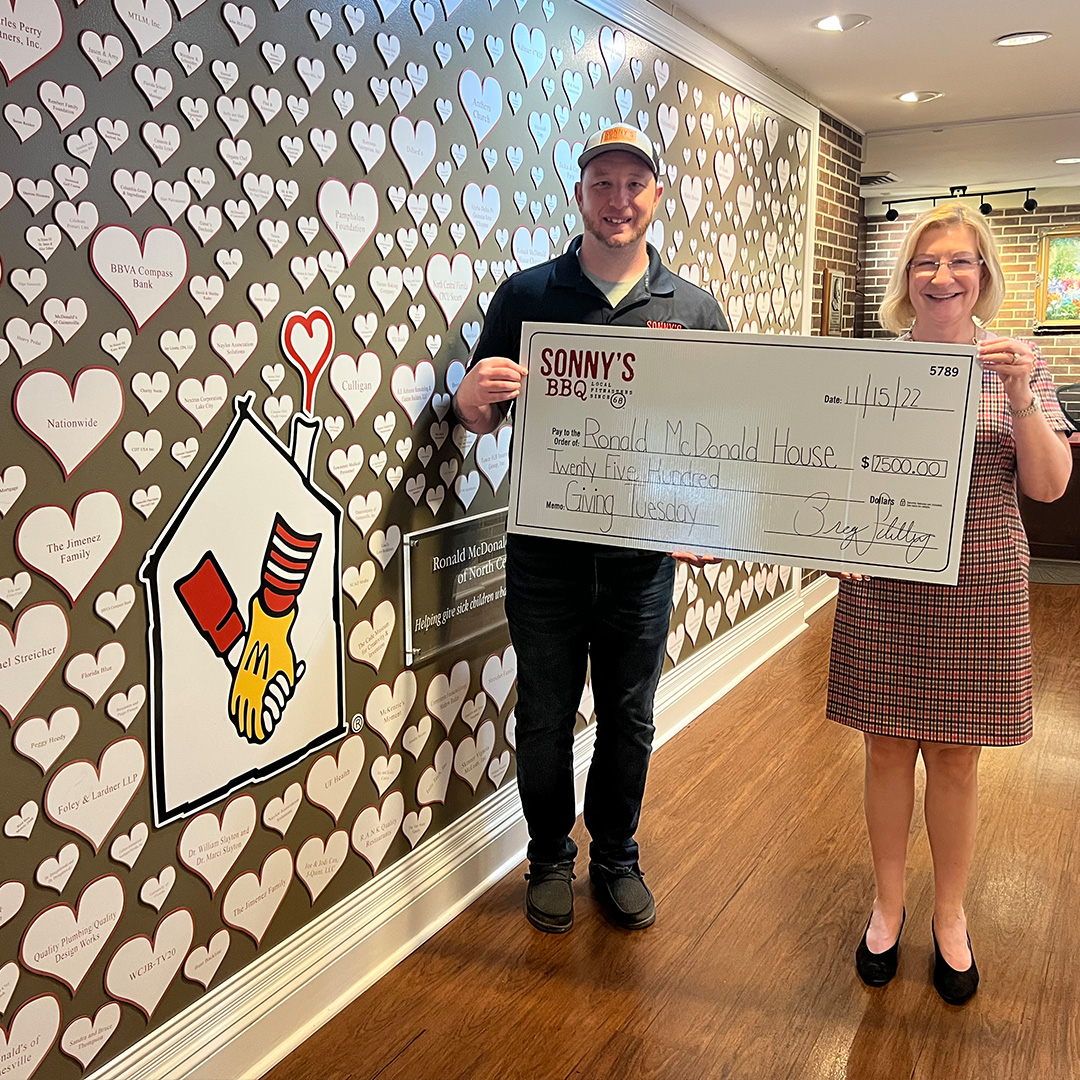 ---
Greg was nominated for being a positive light and always giving back to those around him. He genuinely cares about each team member and treats them like family. Even though he has a two-hour drive to work, he still offers to pick up and drop off his team members that don't have a ride. Greg fills the restaurant with positive energy and loves finding new ways to make everyone laugh. He created "High Five Fridays" where he walks around and gives everyone a high five to pump them up for the day. Not only does he look out for his team, but also for his guests. When he noticed a guest was in need of a new wheelchair, he started a GoFundMe and was able to get him a brand-new one. He is incredibly dedicated to his community and is humbled when he is able to help out.
---
"I will be donating the $2,500 to the Ronald McDonald House Charities of North Central Florida. This charity is special to me because I love helping children in need. I hope this donation helps more families get the support they need while staying at the Ronald McDonald House."
---
The Ronald Mcdonald House provides temporary housing, basic amenities, and support to families with children receiving treatment at the Children's Hospital with little to no costs. This allows families to stay together and gives parents a better line of communication with their child's doctors. They can also focus on the health of their child, rather than grocery shopping, cleaning, or cooking meals.
---
Miss Rose | Server – Haines City, FL
---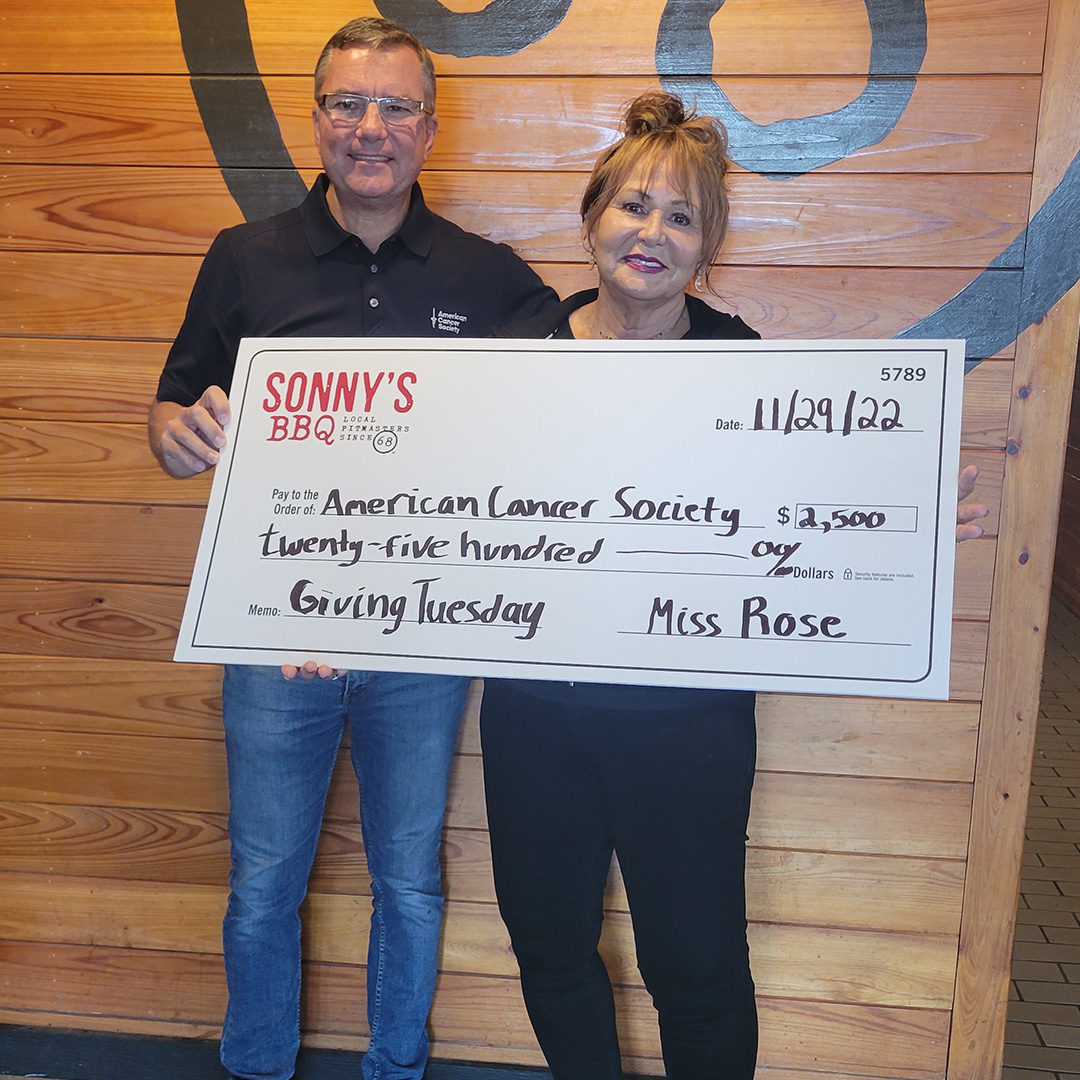 ---
Mary was nominated by her team to join the Kindness Crew for her heart of gold. She radiates kindness and makes it a point to do one good deed every day. She has been through a lot, but always finds a way to be positive and put a smile on everyone's face. Mary considers her team a family and looks after them as if they are her own children. Her managers consider her the perfect server and joke that they wish there was more of her to go around.
---
"I am donating my funds to the American Cancer Society. I recently lost my husband and my sister to cancer and working with this charity helps me honor their memory. I hope this donation helps as many cancer patients as possible to get the proper treatment."
---
The American Cancer Society is the leading cancer-fighting organization with a vision of ending cancer for everyone. The organization works to improve the lives of people with cancer and their families through advocacy, research, and patient support, to ensure everyone has an opportunity to prevent, detect, treat, and survive cancer.
---
Emily R. | Server – Richmond, KY
---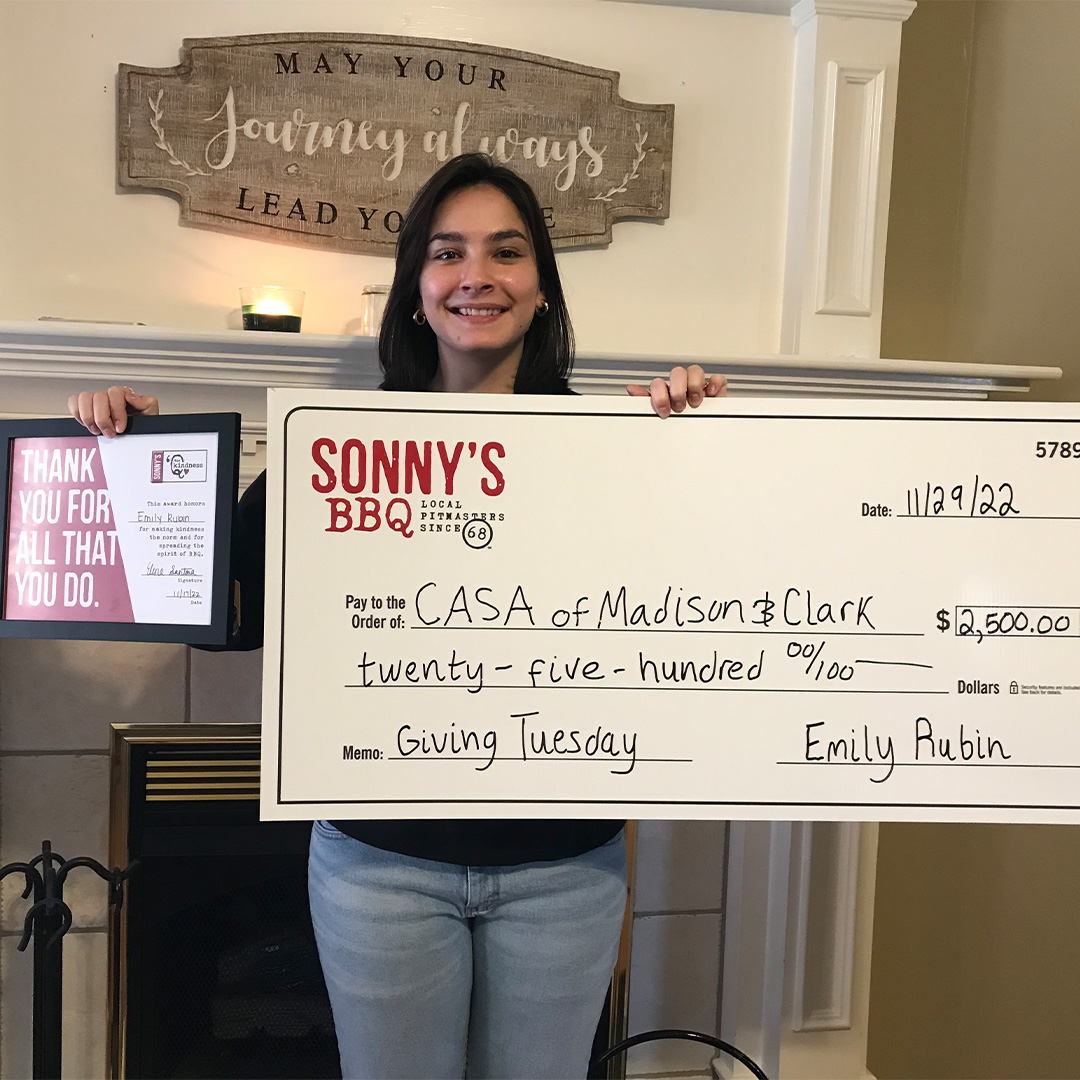 ---
Emily was nominated for always spreading kindness to her team and guests. She goes out of her way to make sure every guest is happy and enjoys serving her regulars. Emily always has a smile on her face and goes the extra mile to help those around her. She loves giving back to her community and has worked with many charities through her church.
---
"I am making my donation to the CASA of Madison and Clark Counties. I have a soft spot for children in need because I know what it is like to struggle and I want to help ensure no child has to go through life without having everything they need. I hope this donation makes a difference and helps put a smile on their faces."
---
CASA stands for Court Appointed Special Advocates. CASA of Madison and Clark Counties trains and supports community volunteers who advocate on behalf of abused and neglected children within the Family Court system.
---
Nominate a Hero in your Community for Giving Tuesday
---
Do you know someone celebrating Giving Tuesday? Or do they go above and beyond to spread kindness throughout your community? Share your stories of kindness with us at QtheKindness.com. We're all ears!