Recipe: Smoked Deviled Eggs
Next time you've got a cravin' for deviled eggs, try 'em smoked. Tangy and slightly spicy, Head Pitmaster Bryan Mroczka is sharin' an easy peasy recipe you'll be rushin' to try at home and tell your friends about.

Now that we have your taste buds' attention, give this recipe a try at home and share a photo of your Smoked Deviled Eggs with us on social using the hashtag #SonnysBBQ.
You Will Need:
6 eggs
1/4 cup mayonnaise
1 teaspoon white vinegar
1 teaspoon Sonny's Mustard Sauce
Pinch of salt
Pinch of black pepper
Smoked paprika
Bacon (optional)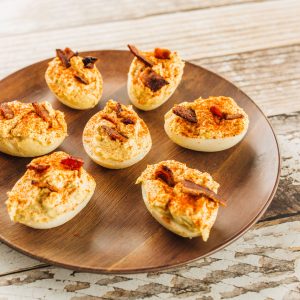 Directions
Place your eggs in a medium saucepan covering the eggs completely with water. Boil over high heat until the water starts boiling. Turn the heat to low and cover the pan for a minute. Turn the heat off and leave covered for 15 minutes.
Crack the eggs and peel the shells (running under cold water helps).
Start your smoker and place the eggs on the smoker for 10 minutes (we recommend using a fruit wood like apple or cherry).
Remove the eggs from the smoker and slice the eggs in half, removing the yolks to a bowl. Mash the yolks so they are in crumbles (using a fork is the easiest). Add mayonnaise, vinegar, Sonny's Mustard Sauce, salt, and pepper, and mix well.
Place the yolk mixture into each egg white and sprinkle paprika over the top.
For added flair cook bacon and place on top.