Recipe: Fried Honey Teriyaki Wings
From the kitchen of Pitmaster Shannon Snell, this Fried Honey Teriyaki Wings recipe is sure to take your watch party to the next level.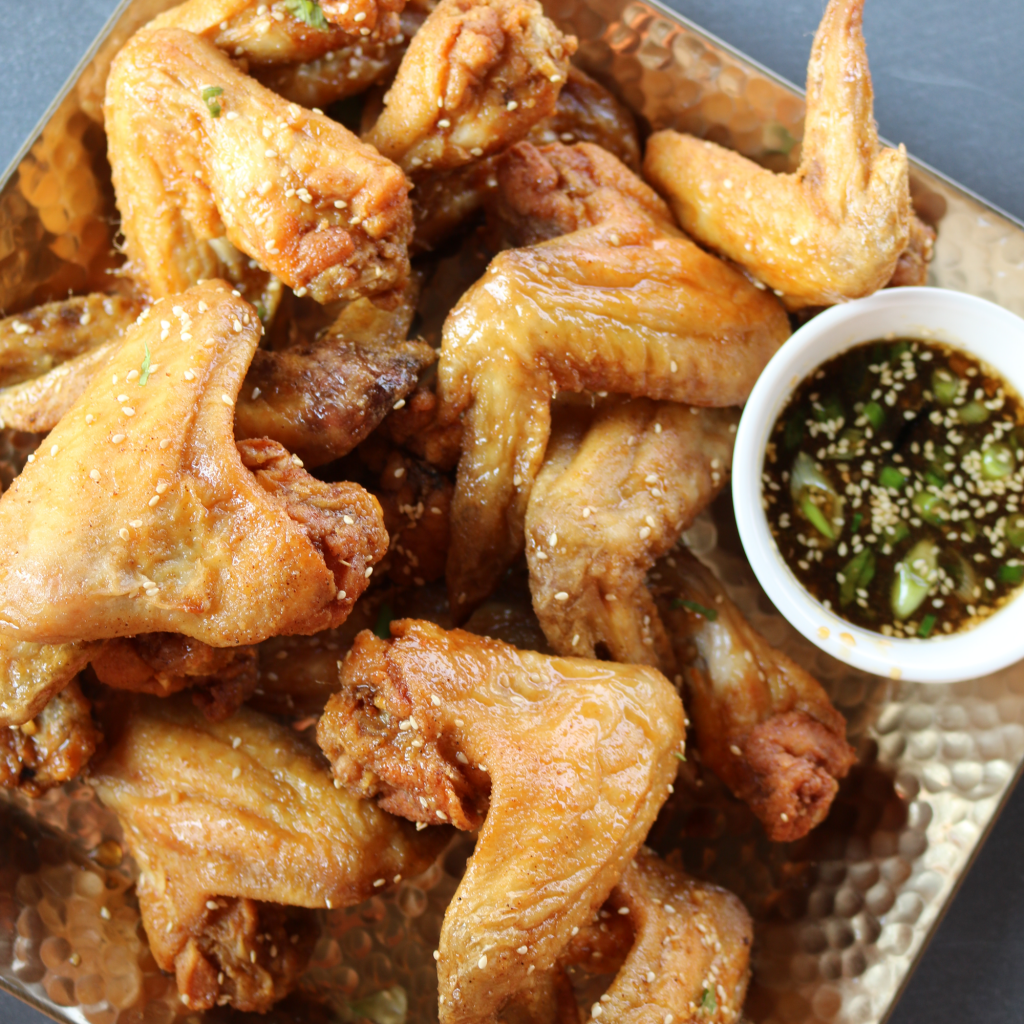 Tryin' this at home? Share a photo of your Fried Honey Teriyaki Wings with us on social using #SonnysBBQ for the chance to be featured.
You Will Need:
½ gallon of Canola Oil

 

2 cups of All-Purpose Flour

 

2lbs of Raw Chicken Wings separated (tail removed)

 

1 tbsp of Salt

 

1 tbsp of Smoked Paprika

 

1 tbsp of Garlic Powder

 

1 tsp of Cayenne 

 

1 tsp of black pepper

 

1 tsp of ginger powder

 

1 tbsp of roasted sesame seeds (optional)

 

¼ cup of chopped green onion (optional)
For the Honey Teriyaki Sauce
1 tbsp of minced garlic

 

1 tsp of ginger paste

 

½ a stick of butter (unsalted)

 

½ a cup of Soy Sauce

 

1 cup of Brown Sugar

 

2 tbsp of Honey

 
Directions
Now let's get to cookin'.
Place oil into a large pot on the stove and turn stove onto a medium-high heat (Between 5 and 6 on the dial setting)

 

While the oil is heating, mix together all the dry ingredients into one of the large bowls. 

 

Pat you chicken wings dry with a paper towel and set them aside while the oil continues to heat. 

 

After 10 – 12 minutes, your oil should be temping at around 325 – 350 degrees. Turn the dial to 5, and that will be where it remains for the rest of the cooking process. 

 

Dredge each chicken wing in the flour mixture. (Make sure you coat them very well.) Shake of the excess flour into the bowl and gently lay the chicken wing into the oil. Be cautious not to fry too many wings at once. The temperature will drop, and your wings will not be as crispy as you'd like. 10 – 15 wings should be the maximum amount that should fry in the pot at any given time. 

 

The wings take 10 – 12 minutes to reach an internal temperature of 175. The drums take a little longer if they are thick. (If you're doing more than one batch, let your oil heat back up before you continue frying more.)

 

Once the wings are ready, remove them from the oil using a metal slotted spoon or tongs and place them in a colander for excess oil to drain off.

 

Place a small sauce pot on the stove on medium heat and completely melt the butter.

 

Once the butter is melted, place ginger paste and minced garlic in for approx. 90 seconds to give the butter some flavor.

 

Finish by adding the soy sauce, brown sugar, and honey in that exact order.

 

Stir and let the sauce simmer on a medium- low heat for 5 – 6 minutes. (Be careful not to let the sauce boil over.) Stir continuously. 

 

Pull the sauce off the burner and set it to the side as it will be still a bit runny. It will thicken up as it cools. 

 

In your other large bowl, place your wings in and coat the with all the sauce. Toss to make sure they are evenly coated and plate.

 

Add toasted sesame seeds and chopped green onion to you finished product for more flavor.