Recipe: Chocolate BBQ Glaze
Looking for a way to finish off your BBQ with a little somethin' sweet and savory? Head Pitmaster Bryan Mroczka's Chocolate BBQ Glaze recipe will satisfy any sweet tooth and pairs well with your favorite ice cream.

Tryin' this at home? Snap a photo of your Chocolate BBQ Glaze drizzled on your go-to dessert and share it with us on social using the hashtag #SonnysBBQ.
You Will Need:
8 ounces chocolate, chopped
1 tbsp light corn syrup
1 cup heavy cream
½ cup milk
½ cup Sonny's BBQ Sweet Sauce
1 dash Franks Red Hot
Vanilla Ice Cream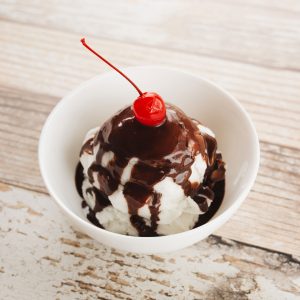 Directions
Place the chocolate and corn syrup in a medium bowl.
Pour the heavy cream and milk into a small saucepan over medium-high heat and bring to a boil.
Pour the heavy cream and milk mixture over the chocolate and whisk until chocolate has melted.
Add ½ cup of Sonny's Sweet BBQ sauce and 1 dash of Franks Red Hot.
Pour the chocolate BBQ sauce over your favorite ice cream and enjoy.