4 Sonny's Pitmaster-Approved Recipes to Score Big at Your Next Tailgate
It's the time of the tailgate. The big games are back, and it's all about gatherin' with your friends, making your fantasy draft picks and cheerin' on your favorite team. What goes best with a tailgate? BBQ, of course. Here are four smokin' recipes handcrafted by Sonny's Pitmasters that are sure to score you some big points.
---
---
---
Now here's a fan favorite. Our Pitmasters take juicy Burnt Ends and coat them in a sweet and smoky glaze made in just three steps. Once you're on the field, get ready to send in your second string, because these delicious bites are sure to go quickly.
---
---
---
Time to bring the kids into the huddle. Take Chicken drumsticks, smoke 'em, and then baste 'em in Sonny's Sweet BBQ Sauce. Don't forget the dipping sauce too. Your younger fans won't be able to get enough of them, and they'll soon be a new game-day tradition.
---
---
---
Nachos and tailgates are always a touchdown. It's a known fact. This tempting tower piles tortilla chips, brisket, tomatoes, beans, jalapenos, cheddar cheese and sour cream. It's easy to stack and an even easier game-time decision.
---
---
---
This is not your average hot dog. Wrapped in bacon, topped with juicy vegetables, melty cheese and Sonny's Smokin BBQ Sauce, this Loaded Hot Dog offers barbecue goodness in every bite.
---
Need More Players? Get Sonny's Catering to your Tailgate
---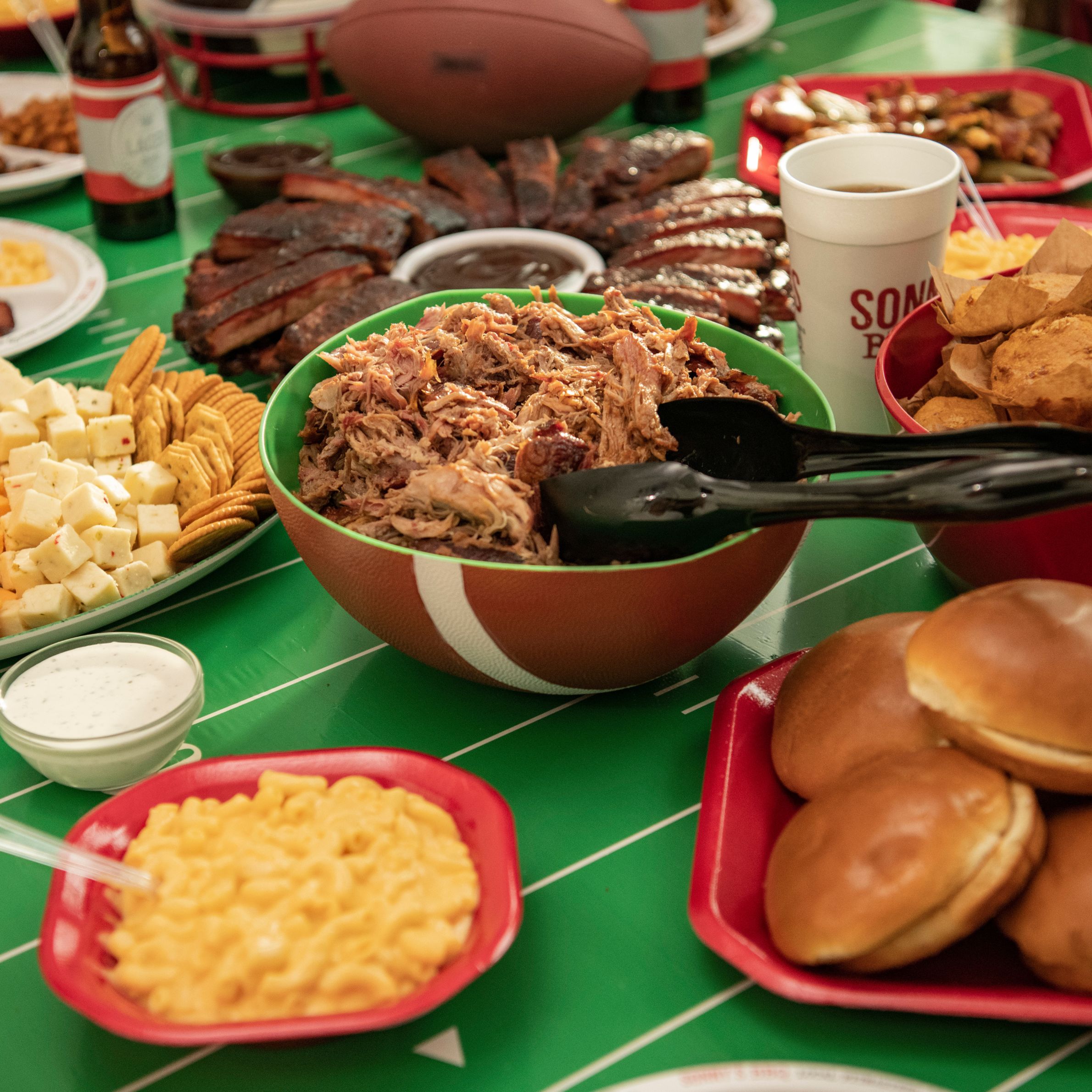 ---
Want us to do cookin'? Put us in, Coach. Sonny's Catering offers party-sized portions of all of your favorite BBQ, along with other MVPs like:
---
BBQ Meatballs
Pimento Cheese & Hot Link Crackers
Smoked Buffalo Chicken Dip
---
Planning a big watch party? Make sure to give us as much notice as possible so our team can make it all the way to the end zone with your slow-smoked lineup. Alright, it's tailgate time, you call the plays and we'll smoke the BBQ. Play ball.